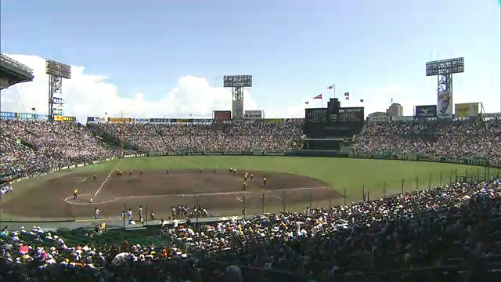 The 96th summer Japanese high school baseball tournament (better known as Summer Koshien) began last week on August 11th and I've occasionally watching games online in the evenings, which is when they occur in my time zone. (Here's the schedule and results so far for this year's competition, as compiled on Yakyu Baka.)
I watch a fair amount of sport each year, sometimes in person but mostly through broadcasts. My primary pro-level focuses at the moment are Major League Baseball (the regular season ends in about six weeks) and European club football (England's Premier League action kicked off last weekend while Germany's Bundesliga begins this coming weekend). Part of my attraction to watching sports is that they're live, unscripted events where passion, determination, athletic ability and other factors in displayed in public arenas.
Summer Koshien is a special thing to watch and an experience for those involved. The schools' pep bands and cheering sections chant their support throughout games. Since it's a single-elimination tournament, the winning team in each match-up proceeds to the next round while the loser goes home. For the third-year players on the defeated squads, it's their last appearance at the hallowed competition in their high-school careers so it's not out of the ordinary to see tears or sad looks on their faces. The players give it their all, sometimes diving head-first on a close play at first base.
There was an hour-long documentary film about the tournament and Japanese high school baseball in general called Kokoyakyu. I remember liking when I saw it a few years ago and it's currently available on Hulu and Vimeo.
Koshien wasn't my only inspiration for writing this post – it's also a partial reaction to some anime blog posts published last month. Author wrote about his previous attempts to find a good sports anime series and omo put up two consecutive posts: the first on what he feels most sports anime currently are about and the second about what they should focus on.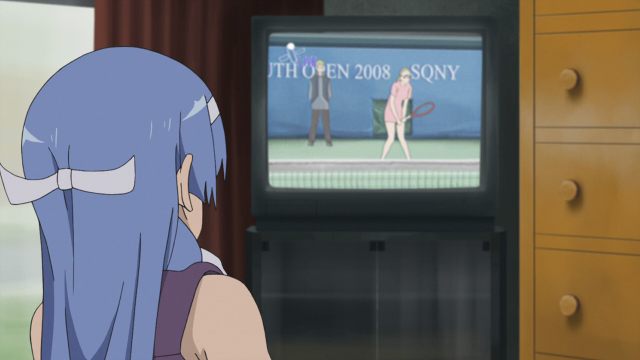 In March 2012, I wrote a post about my love of sports and my related interest in sports anime and manga. Some high-profile sports anime series have debuted since then including Kuroko no Basket, Free!, Yowamushi Pedal, Ace of Diamond, Ping Pong and Haikyu!! and I've sampled each of those along with a few others as they've come out but have fallen behind on them for various reasons. I'm still interesting in catching up and finishing them, though that might be a slow process as I don't marathon shows often.
Since that post, I've also presented panels at conventions in recent years (Fanime 2012, Otakon 2012 & Fanime 2014), mainly about the variety and history of sports manga. The main reason I gave those presentations and want to continue to do them every so often is to try exposing the variety of non-major sports that are subjects of mainly manga and sometimes anime.
However, one problem with that approach is many of the manga I mention in panels aren't translated into English (legally or otherwise) so I feel like I'm doing the audience a disservice by talking about series they can't easily read. Also, not being fluent in Japanese myself makes it difficult to explain some of the series' premises or storylines aside from stating, for example, "Kaori Saki's Shuttle Princess is about badminton".
I'm glad that there are more sports manga adaptations into anime so there's more overall exposure for the genre and the sporting activities being featured. In the case of bicycling series Yowamushi Pedal, it has reportedly inspired more Japanese women to take up cycling. Now if we could just get more sports manga to be translated by publishers, even as digital-only releases like Viz did with Cross Manage (though that particular series was helped by serialized in Shonen Jump and lasting only 5 volumes).
This is probably the second or third time I've attempted to re-dedicate myself toward reading and watching sports series so… I'm not going to guarantee frequent posts on them but I'll try to say something about whatever I manage to finish, whether it's here or on Twitter.