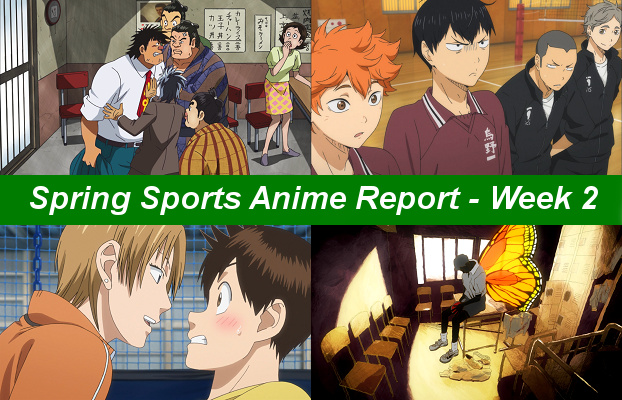 Abarenbō Rikishi!! Matsutarō - episode 2 didn't get interesting until the second half after Matsutaro had finished turning down the hard labor jobs for which his teacher had arranged interviews. We get our first encounter with sumo wrestlers in the series and a confrontation that *feels* like it will lead down Matsutaro down the path of taking up the sport, though he currently still dislikes it, particularly the combatants' clothing.
Haikyu!! - the setup of Hinata & Kageyama's challenge to some of the current members of the Karasuno volleyball club was entertaining and showed that the two first-years still have a lot of work to do before becoming true teammates. The good animation from the debut episode continued in the second.
Baby Steps - Ei-chan starts to apply his methodical approach to tennis after he receives a lesson from Natsu at the tennis club and gets his first thrill from using a racket. His development seems slow at the moment but there might speed up as he puts more focus into his training. Also, an affection triangle is emerging involving Ei-chan, Natsu, and Natsu's tennis partner Takuma that will probably come to a breaking point later.
Ping Pong the Animation - there was another good match this week in a showdown between Smile and his coach. The episode also featured some imagery involving butterflies and a bit of insight into what motivates Smile to continue playing table tennis.
Overall, Matsutaro made a slight improvement over its first impression but not by much while the other three series kept steady with nice follow-ups. Ping Pong is probably my most favorite so far with Haikyu!! and Baby Steps competing for second.