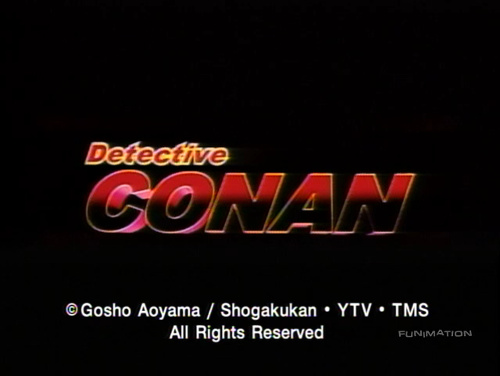 The Detective Conan franchise has been around for almost 21 years. The manga has been serialized in Weekly Shonen Sunday since January 1994, its anime adaptation has been running on Japanese television since January 1996, and there have been movies released every April since 1997.
English-dubbed episodes started airing on Cartoon Network's Adult Swim block in May 2004 so US audiences have been exposed to it for a little over 10 years. (Localized episodes ran for a longer time in Germany with channel RTL II airing first-run German-dubbed episodes from April 2002 until July 2006 for a total of 333 – according to German Wikipedia, some of the specials were run as miniseries so the number of adapted Japanese episodes was 308.)
After Crunchyroll began simulcasting new episodes last month beginning with number 754, I decided I would try to catch up to them and why not start from the beginning? I had watched many of the 50 Case Closed episodes that aired on cable during its first run and saw a couple of the movies but that was years ago so I'd forgotten details of many cases, like how crimes were committed and particular culprits, that I'm now picking up on while re-watching the early episodes.
I'm planning to roughly follow an order guide from the DC Rewatch Tumblr as to when I'll watch the movies, specials and OVAs. (For those who might not be willing to subject themselves to 700+ episodes, the Reverse Thieves wrote a couple of guides in 2010 for the first season and the franchise as a whole, the latter of which was updated earlier this month.)
As far as blogging my progress, I'm going to start off by following the season grouping convention that FUNimation used for their Region 1 DVD box sets (25-27 episodes per season set) and then after that, well… I start treading into the multitude of middle episodes that have not been officially translated into English. A couple of wikis seem to have episodes organized into seasons based on Japanese DVD releases, although some episodes on those releases are grouped out of order so I haven't come to a decision on how to divide up the other episodes into posts yet.
I'm also planning to write about the movies when they come up in my watching order as well as the 2009 Lupin crossover TV special & the 2013 crossover movie. However, I'm considering not watching the live-action drama episodes because I saw one of the live-action specials in the past and didn't really like it.
Now that the preface is out of the way…
~~~ Detective Conan Catch-Up Post #1 ~~~
Last episode watched: JPN #25/US #26 – The Fake Ransom Case Continue reading