This blog post was recovered using The Internet Archive and has been backdated as part of its republication.
---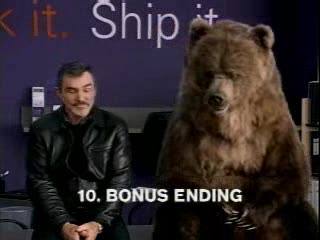 Remember FedEx's 2005 Super Bowl commercial? You know, the one that gave a list of the ten things a great Super Bowl ad has? Well, after watching that ad last year, I've been on the lookout of bonus endings and I get excited whenever I find one. I've seen them in anime but also movies like X-Men 3 and even TV shows, like My Name Is Earl (though Earl's happens while the credits roll on the bottom half of the screen).
Instances I've seen from the world of anime include Detective Conan, Tenshi na Konamaiki, Bleach, GitS: SAC and most recently Pani Poni Dash. Detective Conan usually has a light comedy bit similar to the "everybody laughing freeze frame" from cop shows like CHiPs. Tenshi na Konamaiki does the same except it's shorter (30 secs-1 min). Pani Poni's bonus ending is really short, only 10-15 seconds, but still time enough for a good visual parody.
Bleach (since episode 54) has had a mini-series called Shinigami Zukan Golden, which consists of 30-second humorous shorts that relate to the main storyline. Finally, both seasons of Ghost in the Shell: Stand Alone Complex had the Tachikoma Days shorts, which had a continuing storyline following those sentient four-legged tank robots from the not so distant fictional future.
The common thread that ties these together is that they all intend to leave the audience laughing and having a good experience. They also give Japanese viewers something for sitting through the credits and not changing the channel. But, of course, the show's fans would wait for the preview since they anxiously want to know what might happen next week.
In conclusion, omake is always good.