I had some ideas of other posts to write for the 12 Days blogging project but I've struggled to formulate those into individual posts so I am condensing the better ideas into this final 12 Days 2016 entry.

The continuing trend of food-related anime and manga
2016 had many series where eating & cooking was a main focus such as Dagashi Kashi, Sweetness & Lightning, Poco's Udon World, Tonkatsu DJ Agetaro, the second season of Food Wars, and the second half of JK Meshi. Gourmet manga have been going strong in Japan over the past few years with many also being published in English. Some of the recently translated manga series have been adapted into anime (Food Wars and Sweetness & Lightning, for example) while others have not (e.g., What Did You Eat Yesterday?). There was even a Kitchen Sisters piece about food manga that aired on NPR last August!
2017 already has a couple anime series with food elements – Piacevole (Italian cuisine) and Kira Kira Pretty Cure A La Mode (sweets) – with more probably in the works.
Dagashi Kashi and the Joy of Snacking
I watched the first half of the Dagashi Kashi anime series through Funimation last year and plan to finish watching it sometime soon. Its characters demonstrated various snack items and snack-eating techniques. Hotaru's enthusiasm for cheap snacks was natural for someone representing a company making similar products and the anime and manga series act as informal advertising for Namaiki Beer, Young Donuts and other cheap treats.
During Funimation's release of the anime's Broadcast Dub, the company's Wednesday night live show Dubbletalk featured segments where the three hosts tasted snacks shown in that week's English-dubbed episode.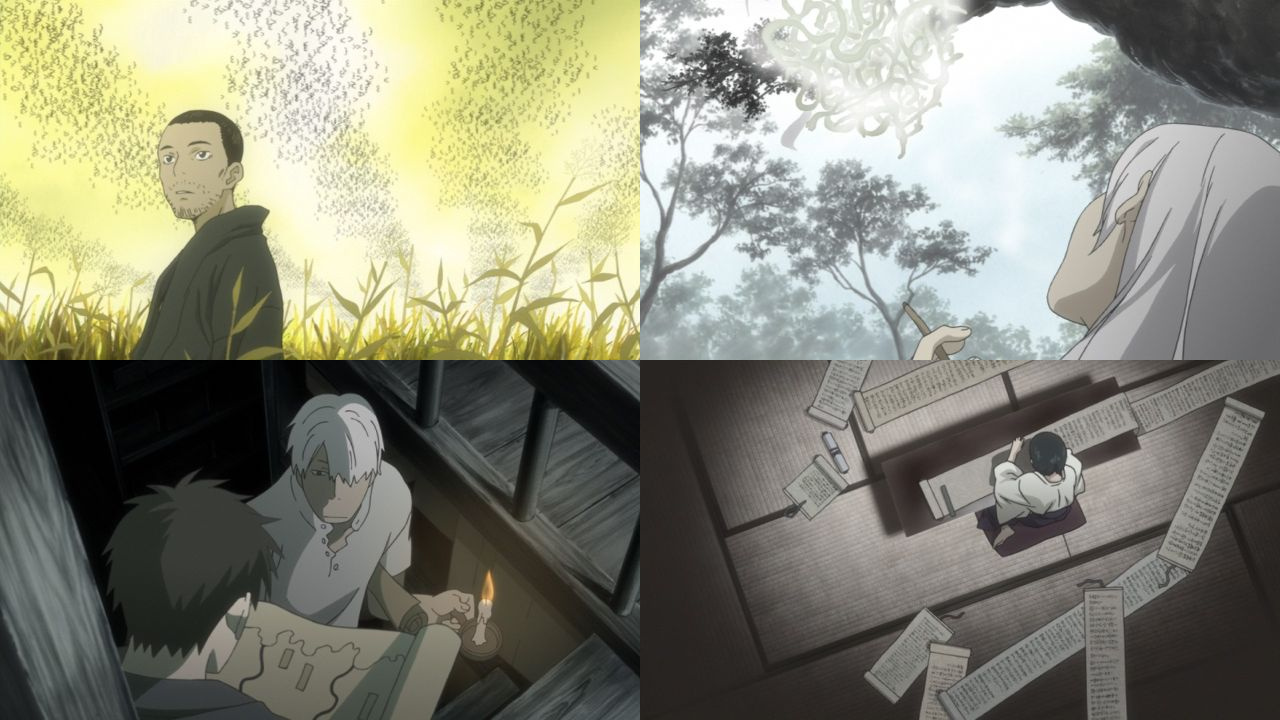 Mushishi and Its Troublesome Organisms
I enjoyed watching the first season of Mushishi last year with some friends. Mushi are beings that are not quite animals, not quite plants, and invisible to normal human vision. Ginko, a mushi-shi, can see such beings and travels to different villages in order to assist them with mushi-related problems, taking a scientific approach as he does so. There were many good episodes in season 1 and my favorite was episode 20, in which a female scribe with mushi in her body writes mushi-related information onto scrolls but then something goes wrong.
I'd like to watch the second season (Next Passage) that is available through Crunchyroll, Hulu, and Netflix and I also want to read Yuki Urushibara's manga series, likely through Kodansha Comics' digital re-releases.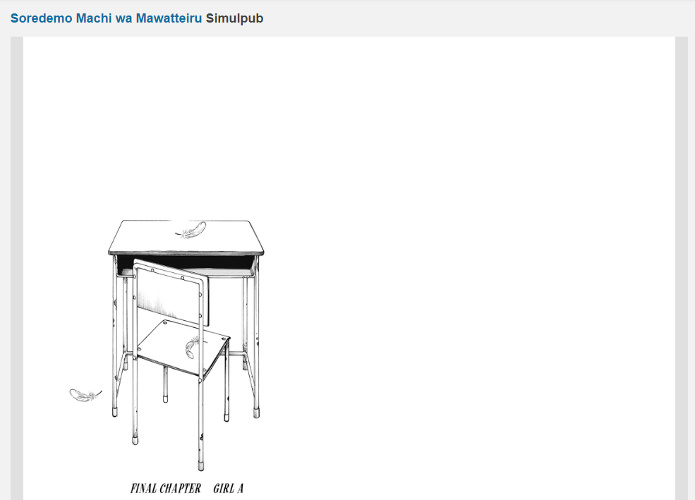 Soremachi manga concludes
Ishiguro Masakazu's Soredemo Machi wa Mawatteiru comedy manga series reached its conclusion in November 2016. I loved the 2010 anime adaptation produced by Shaft and I've wanted to read through the entire manga for a while. The manga series had previously been sold in English through J-Manga before that business shut down and Crunchyroll has digitally published an English translation for the past few years. The first 10 of its 15 collected volumes are available as eBooks through BookWalker Global. Blogger sdshamshel wrote a post on Ogiue Maniax last month about Soremachi as a whole and its final chapters.

"1 Favorite/Like" Threads on Twitter
I saw numerous Twitter threads last year involving someone offering to mention one anime opening/ending song, favorite character, or another thing for each "like" (formerly "favorite") the starting tweet received. They were an easy way for many people to share a list of recommendations. One example was Todd DuBois' (@GWOtaku) thread in November focused on female anime characters with an open invitation for others to do the same with the hashtag #animeladies.
Funimation's transition to all-dub simulcasting
Funimation started to produce many English dubs of new anime during the winter 2015 season and they significantly expanded their efforts during 2016 while reducing its number of subtitled simulcast episodes. Under a partnership with Crunchyroll, Funimation focuses on production of English dubs for its simulcast series while Crunchyroll now handles subtitled versions those series. Their growth in quantity of same-season dubs has allowed newer voice actors to gain more exposure, like Tabitha Ray (Hotaru in Dagashi Kashi; Hayama in Three Leaves, Three Colors) and Sarah Wiedenheft (Ruby in Love Live Sunshine; Tohru in Miss Kobayashi's Dragon Maid).
Re-imaginations of literature and history
There were a handful of anime series last year that contained characters based on historical figures or authors (Bungo Stray Dogs, Time Travel Girl, ClassicaLoid, and Ninja Girl & Samurai Master), fictional characters from classic literature (Trickster), or light discussion of books (Miss Bernard Said). I have only seen episodes of Ninja Girl and Bernard so far but I'm interested in checking out the others sometime in the future.