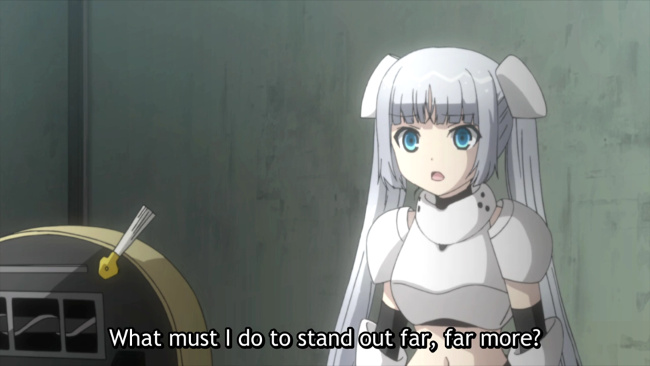 I wrote a post in late June saying I wasn't looking forward to watching a lot of summer anime, yet I've sampled *thirteen* new series so far this month and have enjoyed most of them.

Gangsta [2 eps, FUNimation] – I wasn't entirely captivated by Gangsta's first two episodes. The action and music were good but its characters and dialogue didn't grab me. I'll try to keep up when I'm able if I'm not too busy with other new shows.
Himouto! Umaru-chan [1 ep, Crunchyroll] – Doga Kobo doing what they do best: animating comedies such as YuruYuri, GJ-bu, Love Lab and Nozaki-kun. Umaru is a perfect student at school and a lazy chibi game-playing, junk food-eating brat at home. I feel sorry for her older brother Taihei having to deal with her.
The first episode looked nice but I'm not sure how well its jokes will hold up over the course of a full season – maybe it'll be another Gugure! Kokkuri-san where I get bored with it after 3 episodes…
Miss Monochrome season 2 [2 eps, Crunchyroll] – I liked the first season of Miss Monochrome a lot. Our favorite android idol-girl continues to work toward becoming more noticeable. The first couple episodes of this season involve some wordplay-based plot elements. Also: Ru-chan talks now?!
Non Non Biyori Repeat [1 ep, Crunchyroll] – Season one of NNB had some good humor & heartfelt moments and the opening episode of the current season continues to deliver those things with a Renge-focused story set just before the events of the previous season.
Prison School [1 ep, FUNimation] – One of the more hyped up summer anime, its first episode seemed to entertain me. I liked the boys' reactions and Kana Hanazawa as Hana. The show isn't for everyone as there's many "male gaze" shots of female bodies. (Oh, by the way, the first manga volume makes its North American debut in a few weeks from Yen Press.)
Rampo Kitan: Game of Laplace [2 eps, FUNimation] – Mystery series with some horror elements featuring Kobayashi, a feminine-looking boy who gets excited in trying to solve a case where he's the initial suspect, and Takahiro Sakurai (Rook's voice actor from Phi Brain) as detective Akechi. It has nice directing and pulls inspiration from Edogawa Rampo's stories.
School Live! (Gakkou Gurashi!) [1 ep, Crunchyroll] – I thought it was colorfully animated with some nice jokes before taking a dark turn toward the end. I'll see how far I can stick with it.
Seiyu's Life (Sore ga Seiyuu) [1 ep, FUNimation] – This show's debut was cute and funny. Some people have made comparisons to Shirobako (voice acting behind-the-scenes vs. anime production in general) and that might be unfair to Seiyu's Life. I paid more attention to the characters' chemistry than to the explanations of concepts within the show, although the latter are important as well.
Teekyu season 5 [1 ep, Crunchyroll] – If you've seen the previous four seasons of this fast-paced gag comedy, there's more of the same this spring. That's not a bad thing – it's still funny and there is a catchy, new opening song.
Ushio and Tora [2 eps, Crunchyroll] – I've never seen the '90s OVA series but I heard good things from people who watched the premiere so I wanted to give it a shot. It feels overly shonen and I like it for being that way.
Wakaba Girl [2 eps, Crunchyroll] – From the author of Kiniro Mosaic (Yui Hara) is another school comedy, though this one focuses on a rich girl who's trying to experience things she thinks normal high schoolers do. Each episode is about 8 minutes long and the original manga was only one volume so it likely won't get a second season.
Wakako-zake [2 eps, unlicensed] – This is the only summer show I've watched that hasn't been picked up for North American simulcast yet. Its two-minute episodes feature a twenty-something office lady who eats & drinks at different bars.
I'd like to see the live-action drama, adapted from the same manga, that aired starting in January 2015 but no one seems to have attempted subtitling it yet.
Wooser season 3 [2 eps, Crunchyroll] – The length of Wooser episodes has doubled this time around along with a cute-looking ending credits sequence. It's not as laugh-out-loud funny as past seasons so I might end up marathoning the rest of it later if I happen to fall behind in the next few months.