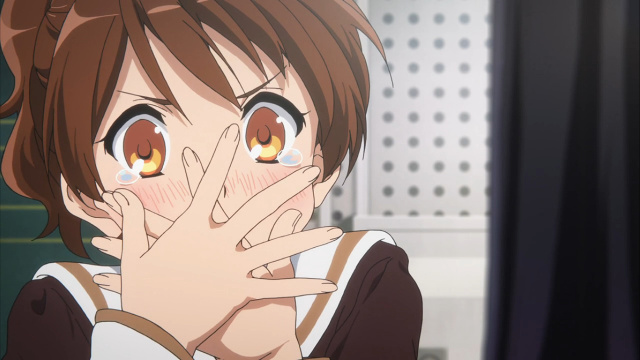 I've watched another batch of new spring anime premieres – some hits, some misses.
Sound! Euphonium: I never learned to play a proper musical instrument nor have I been in a band (rock, concert or otherwise) so I lack a potential link to some of the characters in this Kyoto Animation-produced show. Still, I liked the humor in its first episode as well as the emotions of wanting to perform well in competitions so I'll continue watching it.
My Love Story: The start of a romance between big & tall high school student Takeo Gouda and cute & nervous girl Yamato was sweet and humorous. It looks like it'll be airing for 24 episodes in total – I'm hoping it will develop well over the course of that run.
Punch Line: It was certainly colorfully animated and has a cute ending sequence but the core concept is really stupid. I think I'm going to wait for the show to finish and look for other people's takes on what happens next before I continue with it.
Yamada-kun and the Seven Witches: I hadn't read the manga before watching this first episode but I did know the plot involved body-switching. While being consistently funny, it also had a brief compassionate moment about understanding another character's situation by being in their body. I gave up on Kokoro Connect after two episodes because I quickly got confused about which person was occupying which body and I hope that doesn't happen with this series as well.