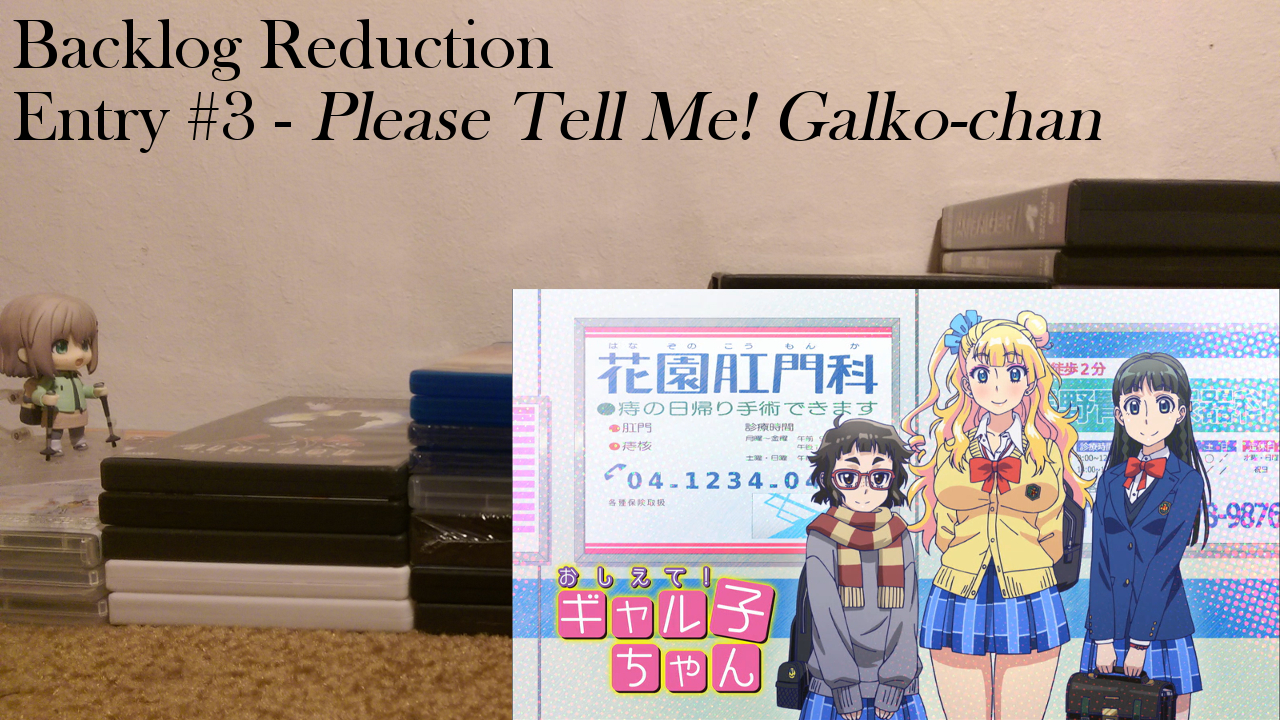 When I noticed Hajimete no Gal (My First Girlfriend is a Gal) was among the dozens of anime series that started this month, I remembered I hadn't finished another series with a "gyaru" main character: Please Tell Me! Galko-chan (available on Crunchyroll). I had watched some of it in early 2016 and I recall liking what I saw back then.
Anime Name: Please Tell Me! Galko-chan (Oshiete! Galko-chan)
Originally aired: January 2016 to March 2016
My previous progress: 3 of 12 episodes
Galko-chan focuses on three high-school girls – Galko, fashionable and a bit impulsive; Otako, provider of scientific aspects of conversations; and Ojou, pure-hearted and sometimes misreads situations – and their diverse set of classmates including a plus-size futsal player, a tall girl who likes occult & horror, a friendly blond boy, and a soft-spoken baseball player. Many of the "is it true that…?" questions that drive the characters' discussions involve female physiology, a subject area that was handled more discreetly than I initially expected. It's set in a co-ed high school so there are a number of nervous interactions between the boys and the girls and those moments play out in a grounded fashion. Galko and Otako's friendship goes through a brief tough patch but they come out of it stronger; the pair was on a recent ANN list of female friendships in anime.
A key theme throughout Galko-chan is "do not make assumptions about other people", a feeling that also appears in its opening theme song lyrics. Galko may have the appearance of a typical "gyaru" but she is also a kind student who tries to help out her classmates. There are misunderstandings among characters based on overheard conversations, sounds, and smells. For example, Otako teasingly asks Galko for a rubber (ゴム, 'gomu'), referring to a condom, and Ojou overhears them but thinks they were talking about hair ties until Otako whispers in Ojou's ear what they were really discussing and causes Ojou to blush a lot.
Galko-chan is a positive series about overcoming teenage worries of perceptions and I recommend giving it a try if you have time for it. Each episode is eight minutes long, making the whole series a little over 1 1/2 hours in total. There are a couple male-gaze camera angles focusing on breasts when boys are around Galko but that's to be expected with its high school setting.