Good theme songs and accompanying animations help me enjoy some anime series. There were many opening and ending songs I liked hearing and watching during 2016, some of them coming from the same show.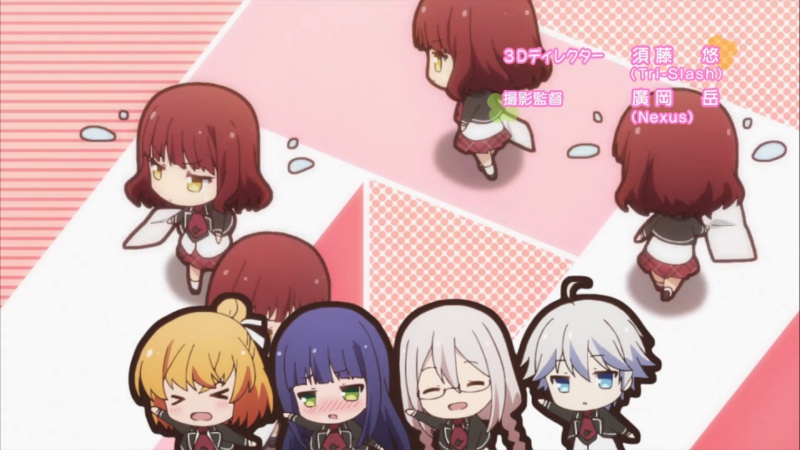 Anne-Happy opening – "PUNCH MIND HAPPINESS" – Happy Clover
[watch on Crunchyroll]
I watched two episodes of this comedy anime and thought it was okay. Its opening is an energetic tune, sung by the primary five voice actresses, paired with visuals that show each of the five girls' particular "unlucky" features, such as being not good with directions or having poor health. The cries of ganbacchaou and ganbarimasho match an underlying tone in the series of trying your best in spite of preconceptions about bad luck.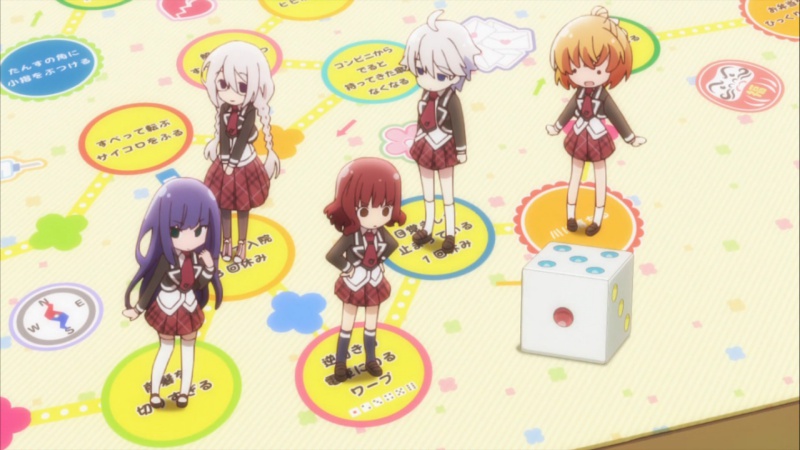 Anne-Happy ending – "Ashita de Ii Kara" – Happy Clover
I also liked the show's ending animation that uses a board game element and a softer song, also sung by its five main voice actresses.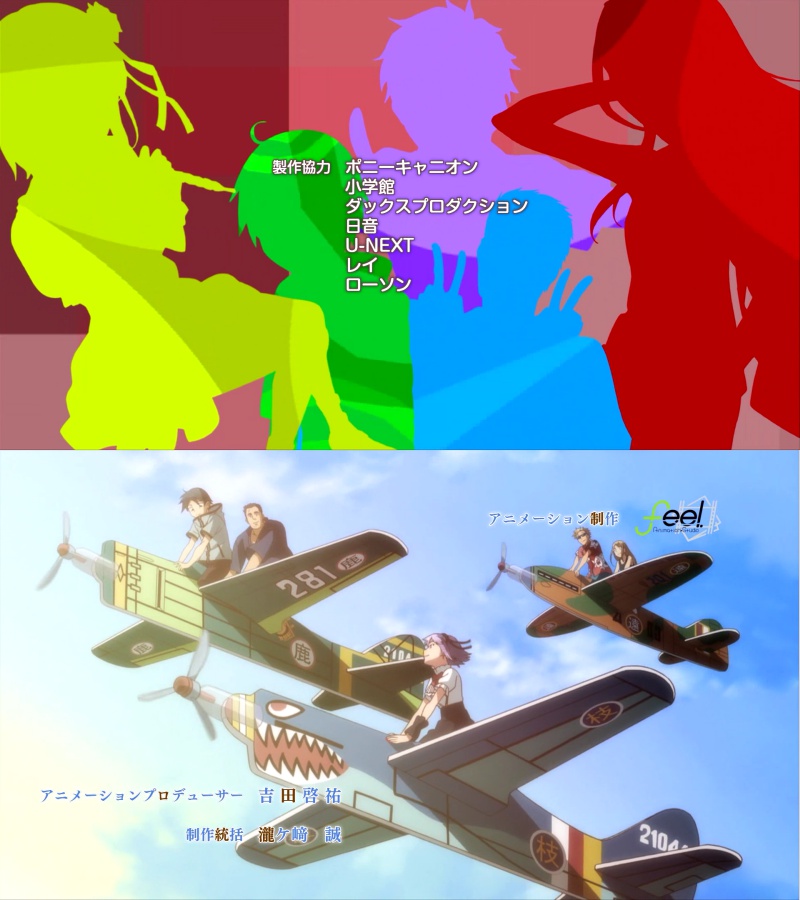 Dagashi Kashi opening – "Checkmate" – MICHI
[watch on Daisuki; FUNimation; Hulu / Yahoo View]
Dagashi Kashi debuted with an interim opening animation containing character silhouettes and boxes of treats scrolling over sepia-colored clips from the show. The second opening animation, starting from episode 3, has some dagashi shop items such as airplane gliders and Hotaru running toward a lineup of mascot characters.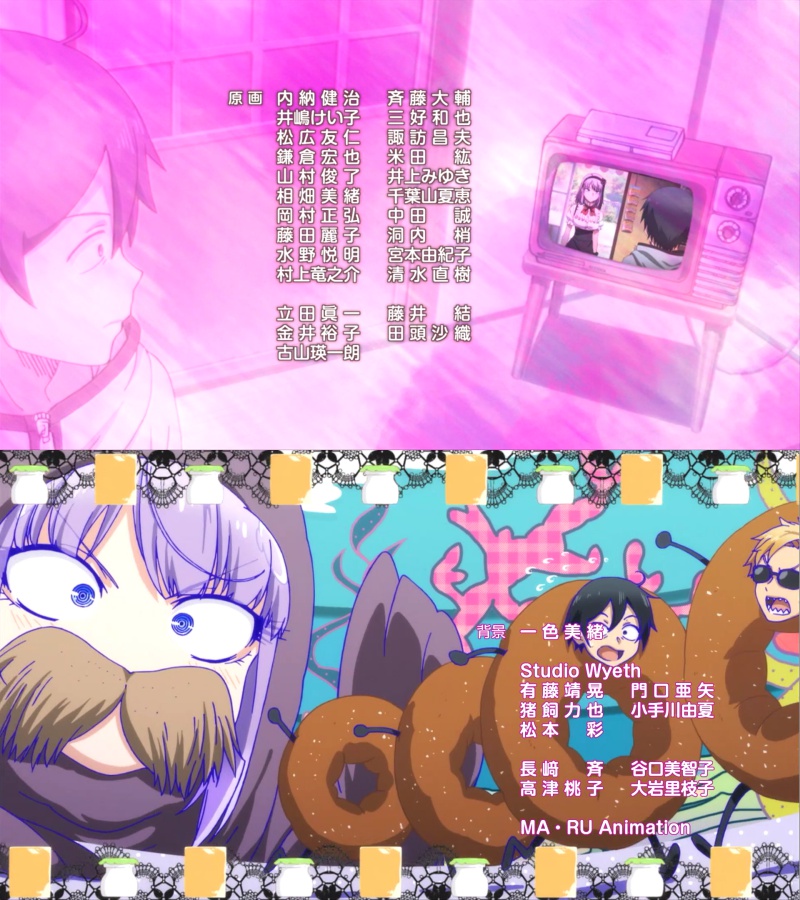 Dagashi Kashi ending – "Hey! Calorie Queen" – Ayana Taketatsu
The first version of Dagashi Kashi's ending animation is just a static image of Kokonotsu looking at a television playing highlights from that week's episode while the room's color shading changes. Version two features the series' characters in an "Alice in Wonderland" world – something that another anime about food (Gourmet Girl Graffiti) did in its own opening last year – and Hotaru & Saya doing a choreographed dance. Hotaru's voice actress, Ayana Taketatsu, sings the ending theme that contains sweets-related lyrics.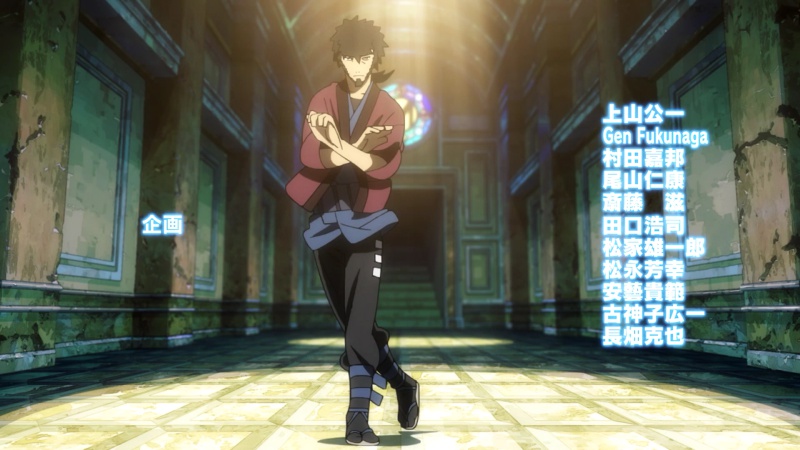 Dimension W opening – "Genesis" – STEREO DIVE FOUNDATION
[watch on FUNimation; Hulu / Yahoo View]
I watched an episode of this science-fiction future energy series and will watch the rest of it next year. The anime was simulcast by FUNimation and was also broadcast on Cartoon Network during its late-night Toonami block. Its opening animation shows some of its main cast, a few action sequences, and Kyoma dancing by himself.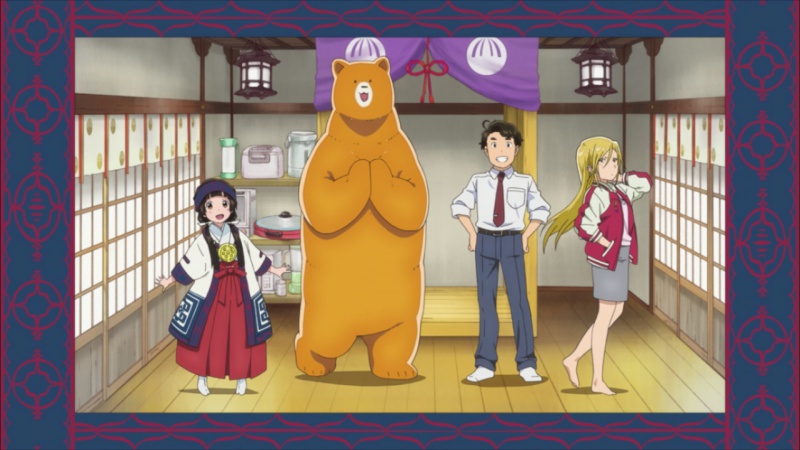 Kuma Miko opening – "Datte, Gyutteshite." – Maki Hanatani
[watch on FUNimation & YouTube]
This light pop song features a teenage singer around Machi's age and the animation shows Machi appearing in various fashion outfits and she & Natsu wandering around a French city.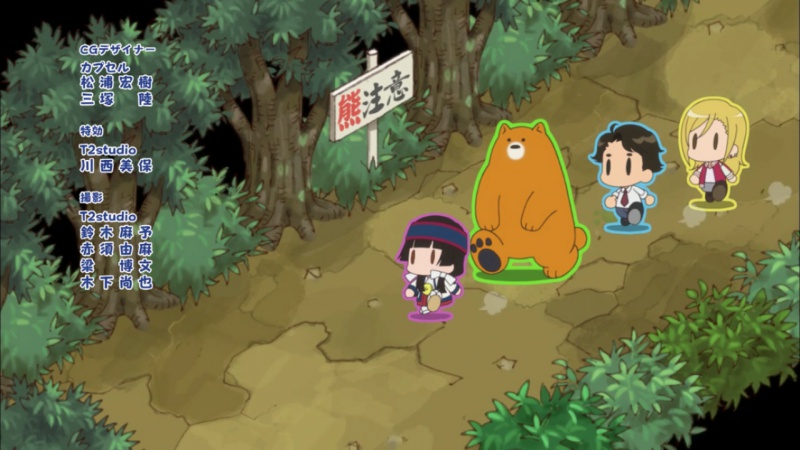 Kuma Miko ending – "KUMAMIKO DANCING" – Natsumi Hioka & Hiroki Yasumoto
Chibi versions of characters walk around in an isometric perspective world to the beat of a song performed by Machi and Natsu's voice actors with accents of traditional Japanese instruments.

Ooya-san wa Shinshunki opening – "Shining Sky" – every♥ing!
[watch on Crunchyroll]

I talked about this short-episode series in a previous 12 Days post but didn't mention its cute, 30-second opening that shows Chie-chan floating among sakura petals and soaring in a blue sky.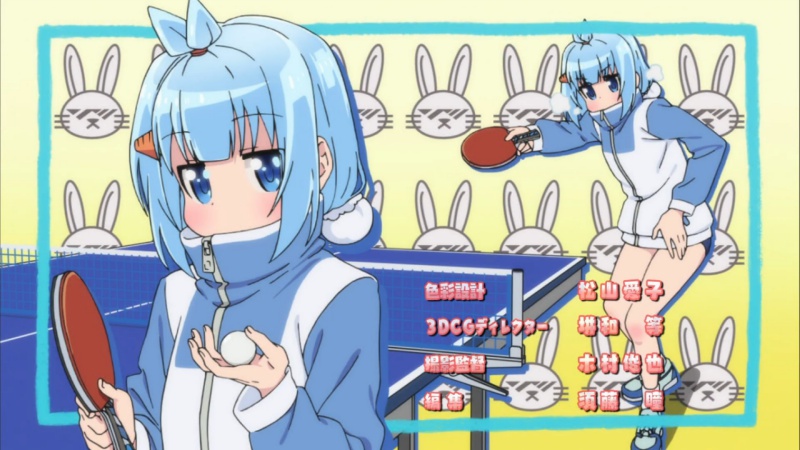 Scorching Ping Pong Girls opening – "Shakunetsu Switch" – Suzumegahara Chūgaku Takkyū-bu
[watch on Crunchyroll]

The voice actresses for the series' six main characters sang this opening song that has some nice bass guitar playing and rhythmic clapping that reminds me of Latin music. The animation shows off those six characters and some of their opponents from other schools as well as well-animated table tennis playing. Sakuga Blog discussed Kinema Citrus and its efforts animating this series in an early December post.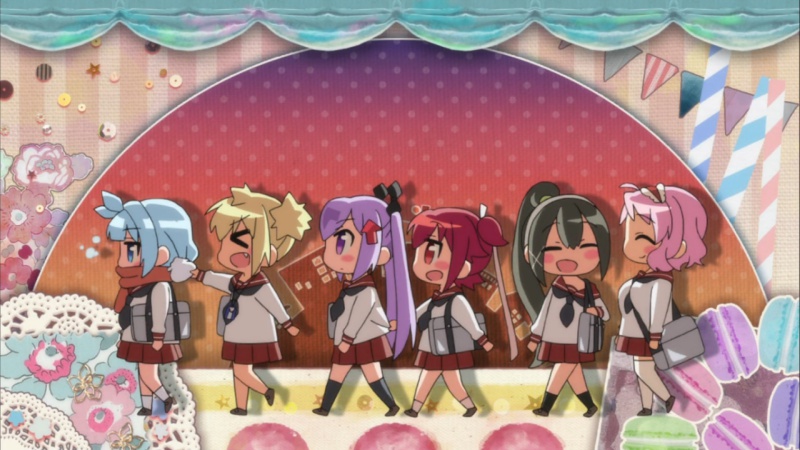 Scorching Ping Pong Girls ending – "Bokura no Frontier" – Wake Up, Girls!
This ending animation takes a cuter approach compared to the show's opening, showing a typical school day featuring chibi versions of the main characters. Seiyuu idol group Wake Up, Girls! sings the ending song and four of its members (Kaya Okuno, Minami Tanaka, Miyu Takagi & Yoshio Aoyama) also play characters in the show.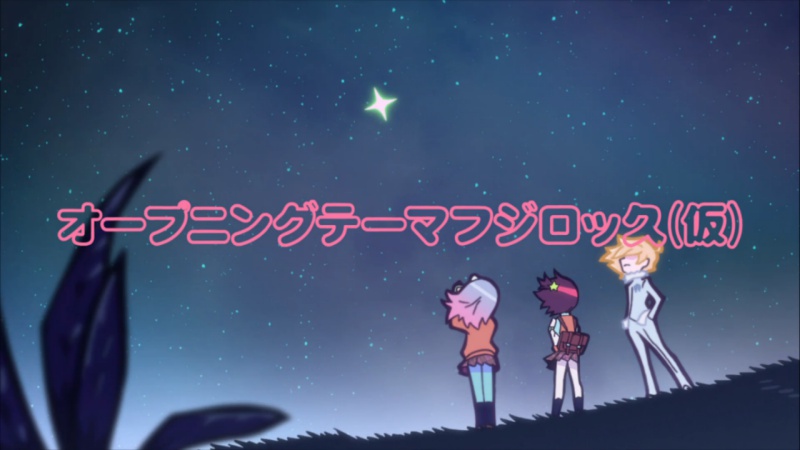 Space Patrol Luluco opening – "CRY MAX Do-Heijutsu" – Fujirokyu (Kari)
[watch on Crunchyroll]
The opening animation of Trigger's hit short anime is brightly colored and works well with the 30-second version of a three-and-a-half minute song.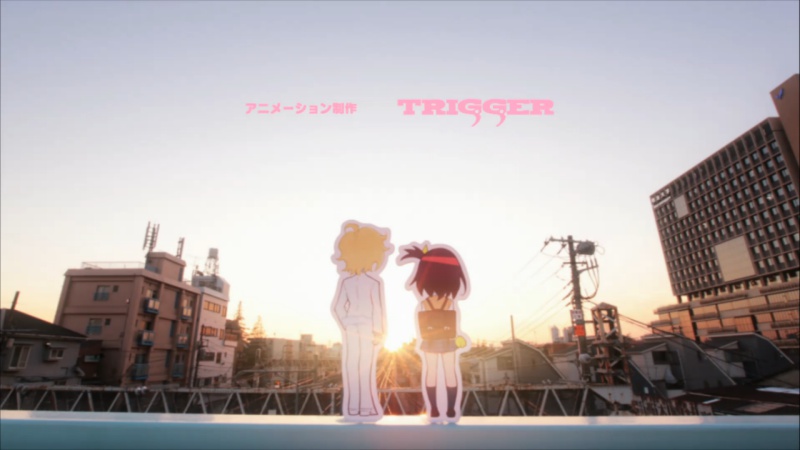 Space Patrol Luluco ending – "Pipo Password" – TeddyLoid feat. Bonjour Suzuki

Luluco's ending animation is about 90 seconds – as long as an ending animation from a standard-length anime series – and shows flat cutouts of Luluco and Nova photographed in real-life locations. The ending song wonderfully blends TeddyLoid's beats and Bonjour Suzuki's breathy vocals. You may recognize TeddyLoid from Panty & Stocking with Garterbelt's soundtrack & the Animator Expo short "ME!ME!ME!" and Bonjour Suzuki from their opening theme contribution to 2015's Yuri Kuma Arashi.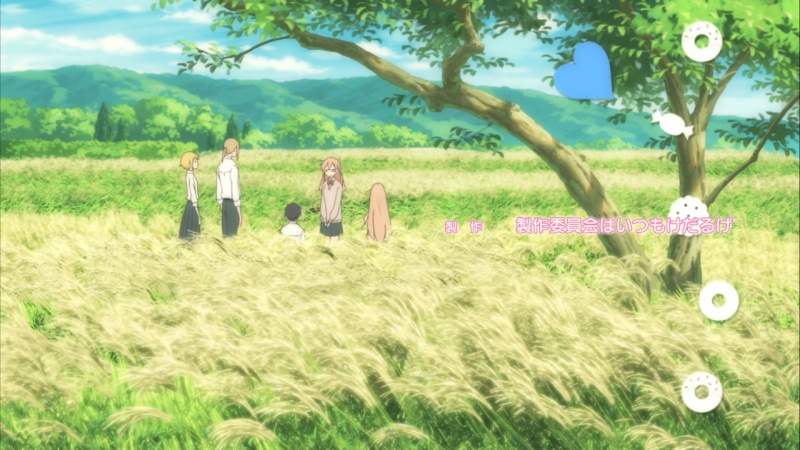 Tanaka-kun Is Always Listless ending – "BON-BON" – CooRie
[watch on Crunchyroll]
I have only watched the first episode of Tanaka-kun but I would like to finish watching it in 2017. The soft yet peppy song with light electro shibuya-kei tones is a slight contrast for a series about a low-energy high school student.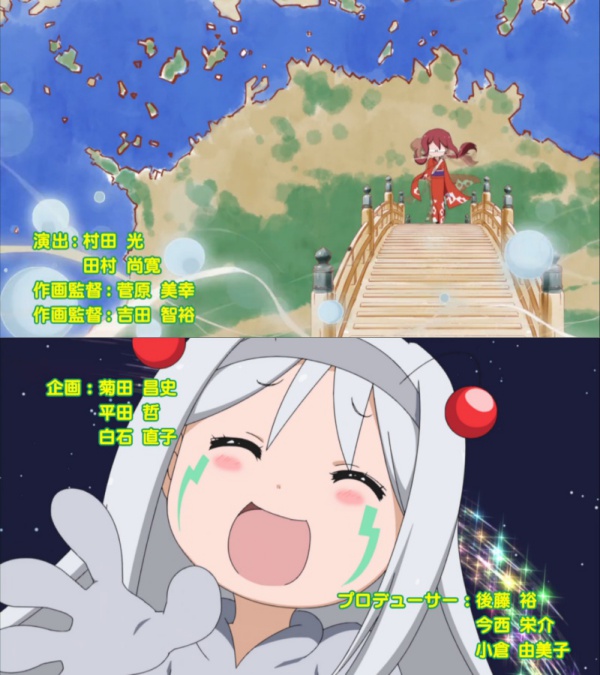 Teekyu season 8 openings – "Gluten Elegy" (Kaori Ishihara) and "Nihongo Wakarimasen" (Yui Ogura)
[watch on Crunchyroll]
Teekyu has had some great opening songs over the years including season 2's peppy "Menimeni Manimani", season 4's "Fatto Shite Tōgenkyō" with Journey to the West costumes, and season 5's India-inspired "Qunka!". Its most recent season that aired this autumn featured two different openings from minor characters: photographer/reporter Udonko and space alien Tomarin. Udonko's opening is sorrowful while Tomarin's opening is more silly.