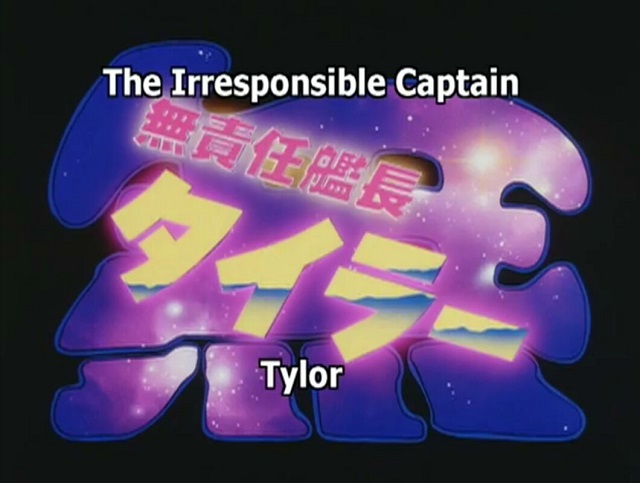 I participated in the Reverse Thieves-coordinated Secret Santa anime review project for another year and from the three choices offered by my recommender, I picked the Irresponsible Captain Tylor TV series to watch.
The main character, Justy Ueki Tylor, joins the United Planets Space Force with the idea that he'll have a easy life in the military. He starts off in the pension division and is assigned to be captain of the destroyer Soyokaze as a promotion after stumbling into an incident and resolving it using questionable methods. Once aboard the ship, he exhibits such cluenessness that some higher officers in the Force want to get rid of him to reduce the possibility of him screwing up their opportunity to defeat the Raalgon empire in a recently declared war.
Tylor's crew initially hated him, writing him off as an idiot and wondering how they survived their initial conflicts on the Soyokaze, but they then came to like his commanding style and him as a person enough to go against regulations to be reunited with him.
The anime proceeded at a mostly leisurely pace in the first half and became more dramatic in the second including a climactic battle while still having a couple of humorous episodes in the mix. The show's jokes were in mostly good taste and I was satisfied with how the TV series wrapped up in the end (despite its convenient course in reaching its finale).
Since the English dub was the only version available legally online through YouTube & Hulu, I watched the whole series that way so I heard Crispin Freeman as Tylor and Lisa Ortiz as the Raalgon Empress & as twins Emi and Yumi Hanner on the UPSF side. It was a pretty good production for this '90s space comedy and I'd recommend giving it a shot if you're open to watching dubbed anime. Even if you end up choosing to watch it subtitled, you should get plenty of laughs over the course of the series.