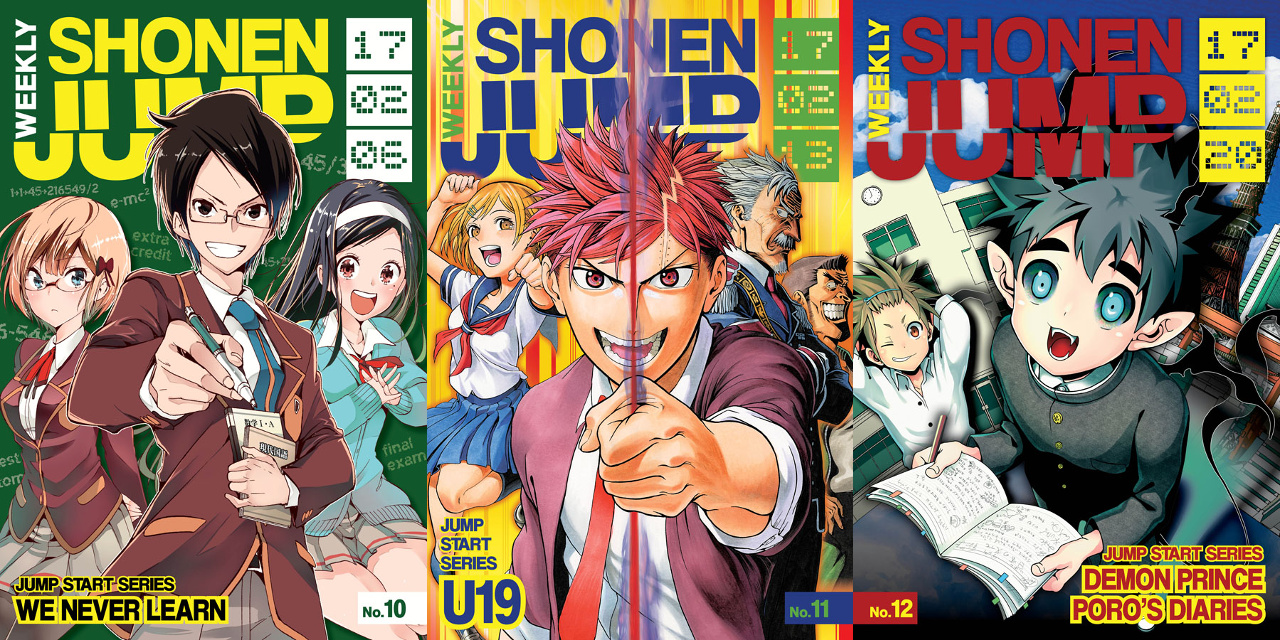 The English-language Weekly Shonen Jump digital magazine is in the middle of a six-series "Jump Start" event. Three series have already debuted – high-school comedy We Never Learn, shonen action/drama U19, and monster comedy Demon Prince Poro's Diaries – while the other three new series coming soon are Hungry Marie (February 27th), Dr. Stone (March 6th), and Robot x Laserbeam (March 20th).
I recently bought a one-year subscription to Shonen Jump during a promotional sale, partly so I could easily check out the new manga debuts. Here are my short thoughts on the first three that have come out.
A reminder for the images below: manga is generally read from right-to-left!
We Never Learn (3 chapters so far; Feb. 6th, Feb. 13th, Feb. 20th issues)
Japanese title: Bokutachi wa Benkyou ga Dekinai (ぼくたちは勉強ができない)
Author: Taishi Tsutsui
Nariyuki Yuiga, a hard-working high school student, is promised a VIP recommendation and a college scholarship on the condition that he tutor two female students who are geniuses in one subject area (mathematics/sciences and literature/liberal arts) but are terrible in the subjects each girl wants to pursue at their respective target universities. Taishi Tsutsui isn't new to writing and drawing manga: he is the creator of Nisekoi spin-off manga Magical Patissiere Kosaki-chan, Esprit, Fukashigi Philia, and Idoroll and has been the artist for Missile & Plankton and Steins;Gate – Hiyoku Renri no Sweets Honey.
I liked the character art and humor in We Never Learn's first three chapters, although there have been a couple moments of mild embarrassment involving close contact and others' assumptions of a romantic relationship. Its first two chapters are available for free on Viz's website.
U19 (2 chapters so far; Feb. 13th, Feb. 20th issues)
Author: Yuji Kimura
In 2020, Japan's voters put the Grown-Up Party into power and it has instituted education reforms including corporal punishment in schools & an assessment at age 20 that determines which jobs a person may hold during their adult life. U19 takes place 16 years later with high school student Eiji Kudo. Eiji has been mocked for his interest in sewing and hates the current system. His high school is chosen as a test site for a new genetic assessment policy and Eiji's childhood friend Akari is about to transfer to another school after her outstanding genetic score. There are also rumors about rebel children with Libido, special powers that awaken in certain people when they are exposed to extreme stress.
U19 feels like a good fit for the magazine since it will presumably have supernatural action involving teenagers fighting against authority figures. Its first chapter is available to read on Viz's website.
Demon Prince Poro's Diaries (1 chapter so far; Feb. 20th issue)
Japanese title: Poro no Ryuugaku-ki (ポロの留学記)
Author: Hitsuji Gondaira
Powerful demon prince (and Japanophile) Poro transfers to a high school in the human world to escape a violent battle in the demon world to become the new king after the current ruler abdicates in one year's time. He and his classmate Yuta quickly become friends and after an eventful day, Poro decides to write down good things about the human world in his diary so he can transform the demon world after he becomes king.
Based on its first chapter, Demon Prince Poro's Diaries could become a fun episodic comedy with occasional action scenes involving Poro and Yuta.