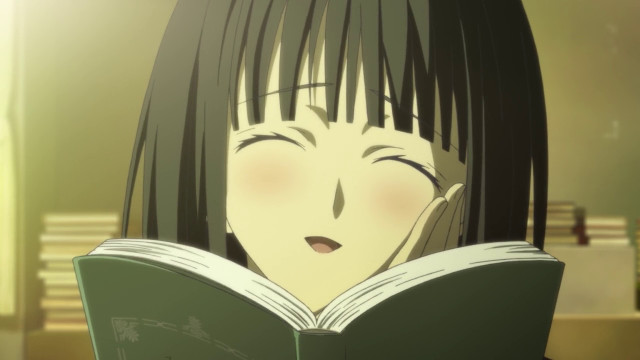 I read the first Book Girl (Bungaku Shoujo) light novel, Book Girl and the Suicidal Mime, soon after it was released by Yen Press in the summer of 2010 and thought it was a good read. A movie and some OVAs were produced by Production I.G. based on Mitsuki Nomura's series of light novels – I chose to watch the movie for this feature.
(Sorry that I've begun to fall a little behind my original pace of one review every two weeks – I'll try to get back on track over the coming months.)
Touko Amano (Kana Hanazawa) is a bibliophile high-school girl/demon who eats written words for nourishment. She recruits Konoha Inoue (Miyu Irino) as a member of the small Literature Club to write "snacks" for her. After a while, they get involved in a mystery when someone starts placing drawings of a monster into a love letter box that Amano set up on the school grounds.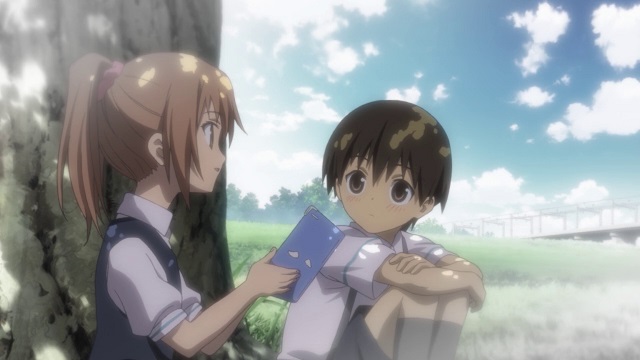 There was a whole melodrama with Konoha's old friend Miu (Aya Hirano), who wanted to become a writer and used to tell stories to Konoha when they were younger. I didn't like that her relationship with Konoha took up the bulk of the movie to resolve and I found that I didn't really care for her as a character.
Kenji Miyazawa's novel Night on the Galactic Railroad played a key part in the story with characters talking about Giovanni and Campanella in some portions. I haven't read the novel nor seen the 1985 animated film adaptation so many references to it were a little lost on me.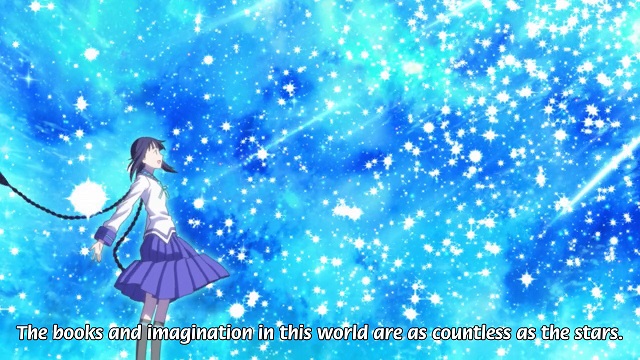 I liked Amano's positivity and general admiration of literature. I like to think I share the latter trait with her, though I don't read as much as fiction as I probably should and definitely feel lacking in cultural literacy regarding many English-language classics.
I thought the animation looked nice but the story lost me about halfway in. Watching the movie did get me thinking about resuming the novel series – I already have the second one (Book Girl and the Famished Spirit) sitting on my shelf waiting for me to start it – so I suppose that's something I can take away from the experience.
********************
Other anime starting with "B" I considered watching were Bartender, Barefoot Gen, Beyond the Boundary, Blast of Tempest, Brave Story, and the Broken Blade movies.