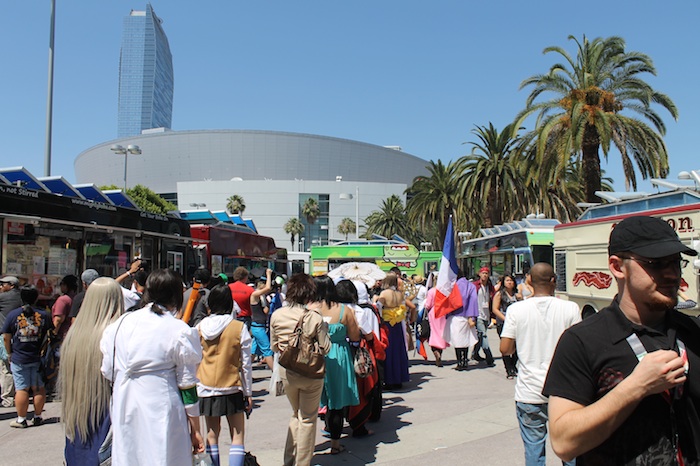 I spent the 4th of July weekend down in LA for Anime Expo 2011 and had a mostly good time, except for the heat, panel delays & lines. I didn't go to any of the main events (Kalafina & Hatsune Miku concerts, Masquerade, AMV Contest) but I did get to use my newly acquired Canon EOS Rebel T3 DSLR camera to cover panels. I shared a room with Shinmaru, sorrow-kun, Kylaran, and Mystlord, ToastCrust, and his friend Darren. (Had to look at this to remember a few names…)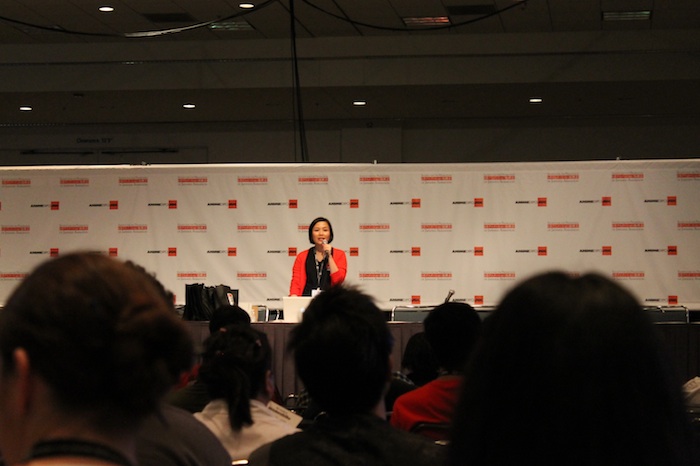 Day 1 – Friday July 1st
After a short flight down to LAX, I took a shuttle to downtown Los Angeles to reach my hotel & then get my weekend badge. I managed to catch the last 5 minutes of the Miku Hatsune keynote and then stood outside in a line to get into the Viz Media panel, which started late because of the Miku keynote began late. Panel delays in Petree Hall (Live Programming 1) happened often during the weekend. The announcement of Mameshiba surprised me a little but then I remembered that I have a couple friends who love that line so it may be able to grow an audience here.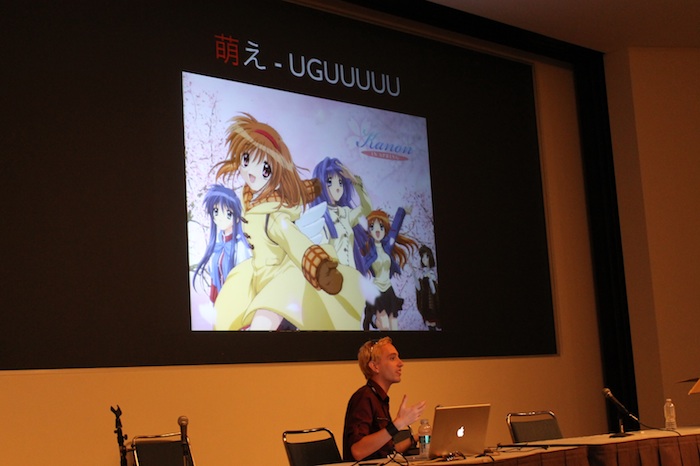 Alex Leavitt gave a panel called Uncool Japan: The Trials & Tribulations of Japanese Pop Culture about stuff like the Akihabara accident some years ago & Bill 156. He also talked about "rotten females" (fujoshi) and meta-ku works about otaku such as Tonari no 801-chan.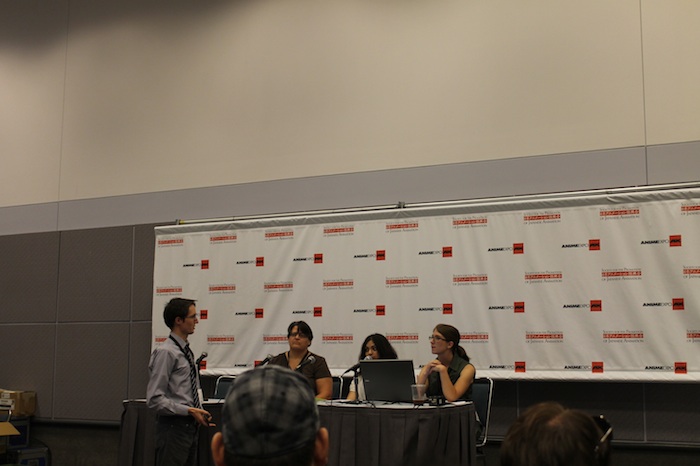 Mikhail Koulikov and academic presenters
Day 2 – Saturday July 2nd
New at Anime Expo was the Academic Symposium track and I went to a couple of their presentation sessions including one about the "balancing power of warrior mothers in anime" that I think mentioned Moribito in it.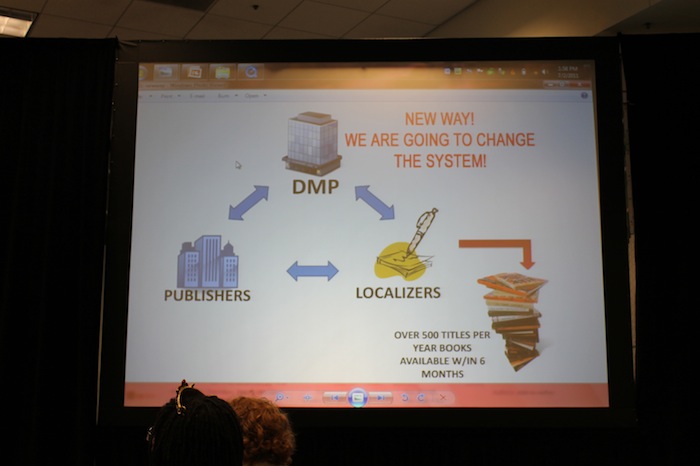 Digital Manga Publishing had a panel explaining what the Digital Manga Guild is and how revenues would be split.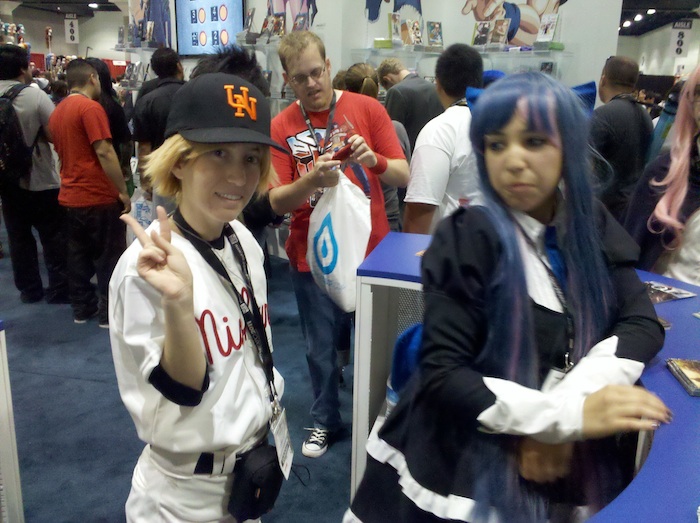 Big Windup/Oofuri cosplayer at Funimation's booth
Day 3 – Sunday July 3rd
Alex Leavitt had another panel called Anime Tune-Up about music-themed anime with a focus on how animation fuels enjoyment. He started off with sakuga (link to a sakuga wiki) and showing a Toshihiro Kawamoto MAD and then moved to how animation in shows has progressed from CG cars in Initial D to the coolness from Osamu Kobayashi's guest direction of Gurren Lagann's 4th episode.
He explained that specific anime about music like BECK and Nodame Cantabile can have high production parts like detailed CG guitars or piano & orchestral scores to match what would be expected in a music school. However, other works like Interstella 5555 and Macross 7 do fine in expressing their emotions with high-tech animation. He also spoke a little about how music is portrayed in manga like NANA and Gravitation.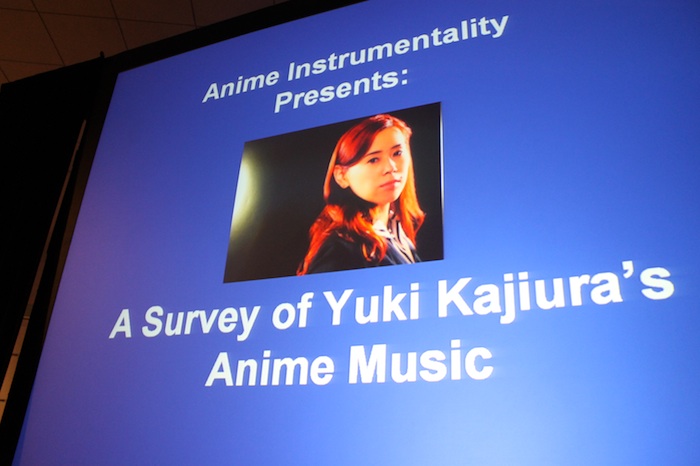 zzeroparticle presented a panel about Yuki Kaijiura with examples from different series.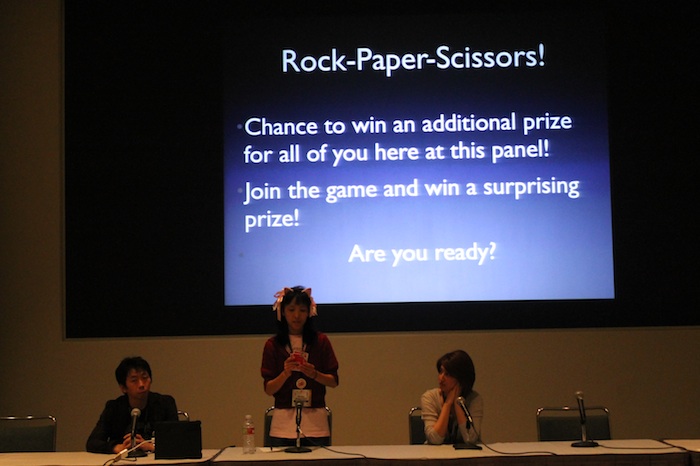 SUGOI BOOKS used rock paper scissors to give away gift cards at their panel.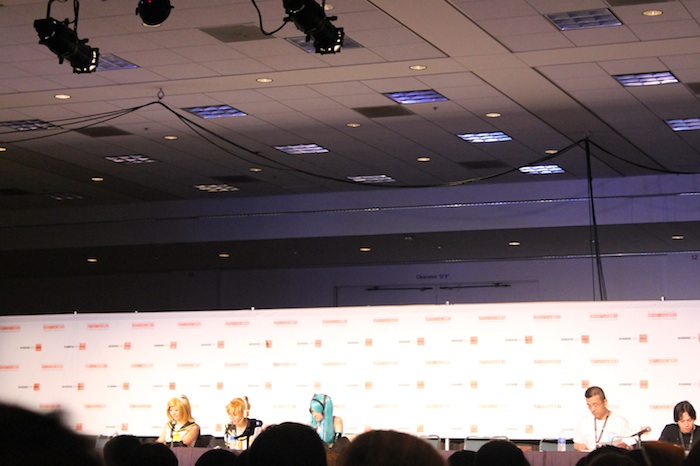 Vocaloid – Mirai no Neiro: I stayed for the first half of the promo videos section before skipping out for the noitaminA panel (which basically was FUNimation profiling certain shows like Princess Jellyfish). Behind the Nihon Review has a good two-part writeup of the Vocaloid panel with embeds of the videos shown and producers profiled. "Strobe Last" looked stunning and "Dye/Reflection" drove me to want to hear more Luka songs.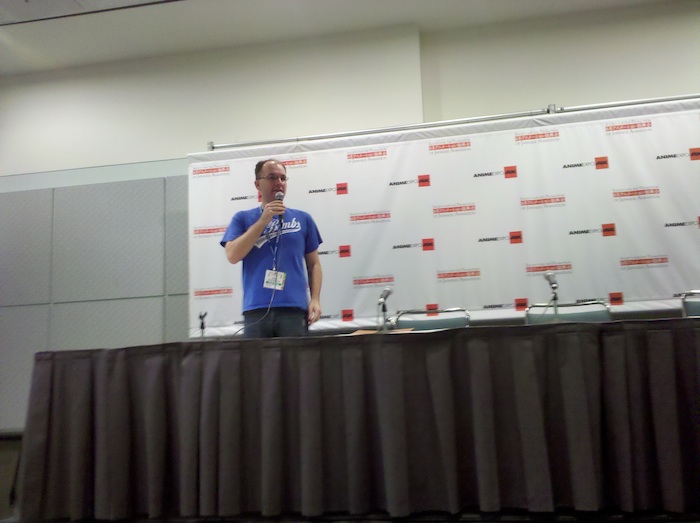 Day 4 – Monday July 4th
Final day of the con was a slow one with not many panels. I went to a workshop put on by FUNimation's Adam Sheehan about how to market anime and sat with Daniella of All About Manga. It was an interesting experience in trying to resolve certain conflicts that may arise in the licensing process – such as very little production art allowed by the Japanese company – with the limited options that were provided.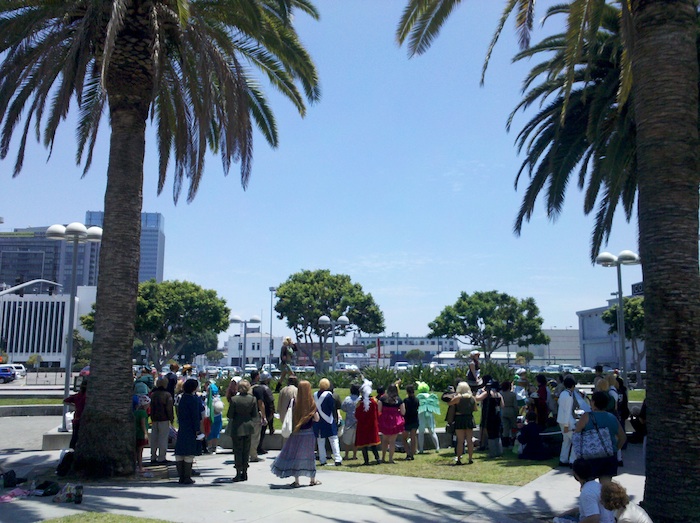 As I was waiting for a shuttle back to the hotel, I saw a Hetalia gathering.
Other reports:
Shinmaru, Behind the Nihon Review (productive reporters), ANN, zzeroparticle, Alex Leavitt's self report