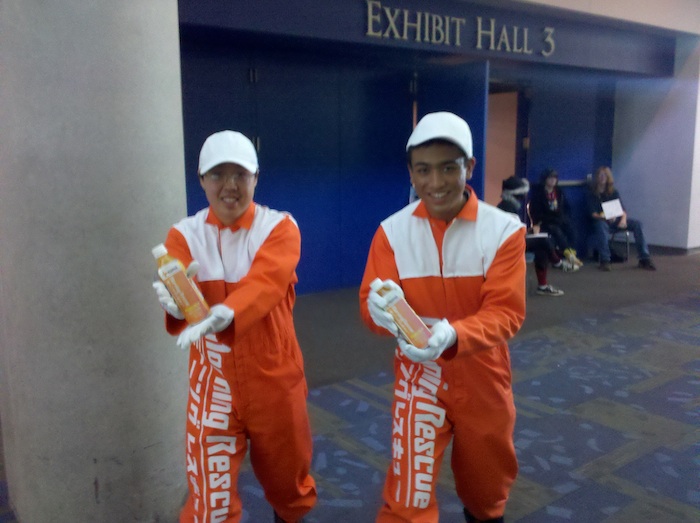 FanimeCon is one Northern California convention I try to hit every year, even though it's lost some of its luster for me recently. Thankfully there were a number of fan & guest panels that kept me interested enough in 2011's edition of the event.
FAN PANELS
History of Memes had an 16+ rating and went through different categories of memes: Musical, Dance, Face, Character, Caption/Comic, and Viral Video. Examples from the Musical type included Erasure's "Always" from Robot Unicorn Attack and the Cooking by the Book/Lil Jon mashup.
A few video game related panels I liked were Shmups 101 on Friday night and Banzai Arcade Lite on Saturday morning. Shumps had a short history of the genre and dispelled some myths like having no innovation or being too difficult to play. An audience member was invited up to play Crimson Clover.
BA Lite had people spin the "techno-roulette" and complete a short challenge in a classic game, a hidden gem or a "crap" game. It was a prelude to Banzai Arcade 2.5 on Sunday night – teams formed and went up to the microphone to answer video game & anime questions (most of the groups chose video games) in categories including Synonymous Game Titles, Quotes and Series Descriptions (anime). Correct answers helped get teams through RPG Maker custom dungeons and defeat bosses. (some BA 2.5 clips on YouTube)
Translating Anime & Manga had freelancer Satsuki Yamashita talk about different publishers & her work method (consistency in naming etc.), looks at fan feedback when taking over a series.
Guilty Pleasures was operated by a guy & girl who might have been a couple, I wasn't sure. They took turns naming anime titles & explaining why they liked each one. The ones I wrote down were Hanyuko Maid Team, Chi's Sweet Home, Gravion, Kyo Kara Maoh, Please Twins, Queen's Blade, Gao Gai Gar, Gravitation, Hanamaru Kindergarten, I My Me Strawberry Eggs, Ikki Tousen, Kore wa Zombie desu ka, Azazel-san, WeiB Kreuz, Tiger & Bunny, and Otome Yokai Zakuro. The guy offered Marmalade Boy and Fushigi Yugi as some of his older favorites when an audience member asked for "normal" ones.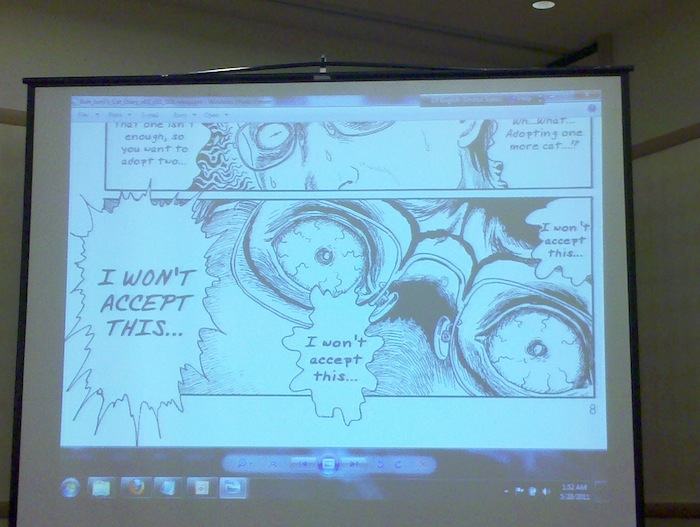 An excerpt from "Cat Diary" by Junji Ito
Weird Manga, an 18+ panel on Saturday night, covered a variety of authors.
– OKAMA – character designer for Himawari, Glass no Kantai and No More Heroes. Author of Cloth Road, which is about high tech fibers yielding programmable clothing and models fighting with their clothes.
– Nobuyuki Fukumoto, known for Akagi and Kaiji. Strange concepts of gambling, "zawa" (uncomfortable atmosphere), manly tears & crazy metaphors.
– Eiji Otsuka – brains, gore/sexual violence, cults, eyeballs. Manga: Leviathan.
– Usamaru Furuya – Litchee Light Club, Short Cuts
– Kazuo Umezu (aka Umezz): Drifting Classroom, Cat Eyed Boy, Snake Girl (Reptilia), Fourteen. Focuses less on gore and more on situations.
– Suehiro Maruo: eyeball licking, Meiji & Showa periods. Ultra Gash Inferno, The Laughing Vampire.
– Osamu Tezuka: Black Jack
– Go Nagai: called him the godfather of perversion in manga. Mazinger Z, Violence Jack, Devilman, Enma-kun, Kekko Kamen.
– Yuki Kaori: Angel Sanctuary, Grand Guignol Orchestra, Fairy Cube.
– Shintaro Kago: shock value, innovative paneling. VICE magazine interview
– individual series:
Gantz (Oku Hiroya), The Embalmer (Mitsukazu Mihara), My Balls (Harada Shigematsu & Seguchi Takahiro), Tokyo Akazukin (Benkyo Tamaoki).
Others – Karoshiya Ichi, Kemonozume, Gyo (Junji Ito) – also Cat Diary, Big Tits Dragon (Rei Mikamoto), Satanister.
Girls Like Boys Who Punch Boys was an interesting Sunday morning discussion of what attracts girls to shounen titles like Naruto, Bleach, Gintama, One Piece, and Prince of Tennis including meaningfulness; deep, emotional overtones; and awesome fights.
Henshin Toku Sentai on Monday morning around 11am was my last panel of the convention and sparsely attended. The guy had some sentai accessories and the main focuses were the Kamen Rider and Super Sentai franchises – the latter was adapted into Power Rangers. Trivia: Mahou Sentai Majiranger (2006) is the only series that had its heroes wearing capes.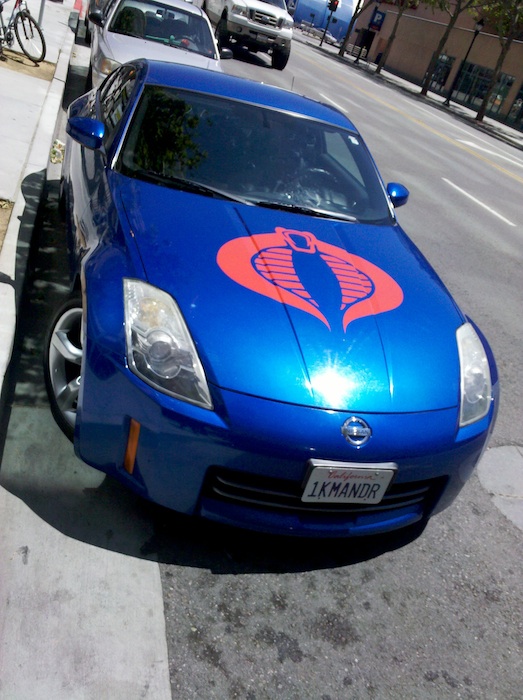 GUEST PANELS
Anime for Parents – Gilles Poitras mentioned Ghost in the Shell & Mirage of Blaze, advised showing Summer Wars to parents who think it's all cartoons. He brought up Gerald Jones' Killing Monsters as why kids need an illusion of power. He suggested using anime as a discussion focus, like the runaway girl and crossdressing in Tokyo Godfathers. Planetes was a good sci-fi recommendation as well as live action Japanese movies.
The announcements of Durarara on Adult Swim and Rurouni Kenshin OVA on Blu-Ray at Aniplex of America's panel (Sat. 2pm) felt underwhelming.
I saw Halko Momoi's Q&A on Saturday afternoon (there was another one on Monday morning). Momoi cosplayed as Ferris Nyan Nyan from Steins Gate and said she liked watching The Mentalist because of the California scenery.
The duo of Gilles Poitras & Jonathan Osborne rolled out a returning favorite, Older Titles for Newer Fans, and profiled anime that are still in print including Wings of Honneamise, Mirage of Blaze, and the recently revived Revolutionary Girl Utena. Gunbuster, Captain Harlock, Crusher Joe, and Kimagure Orange Road were mentioned during the Q&A.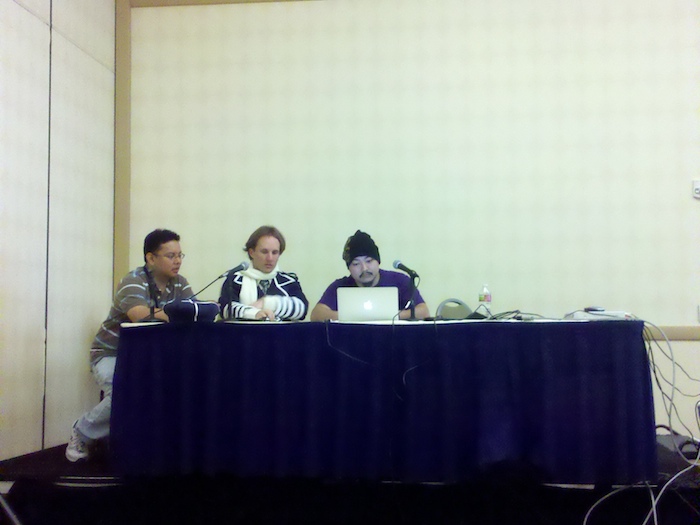 Ryusuke Hamamoto (@ryumotoE on Twitter) did a few drawing session panels while answering questions.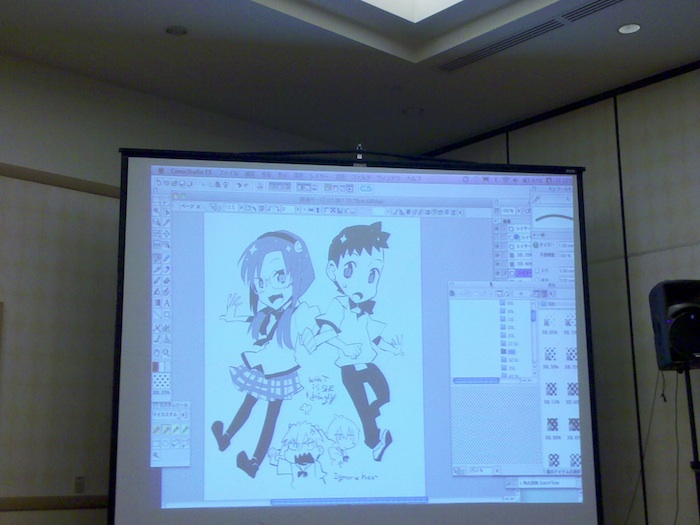 Here's what he was drawing at the one I went to.