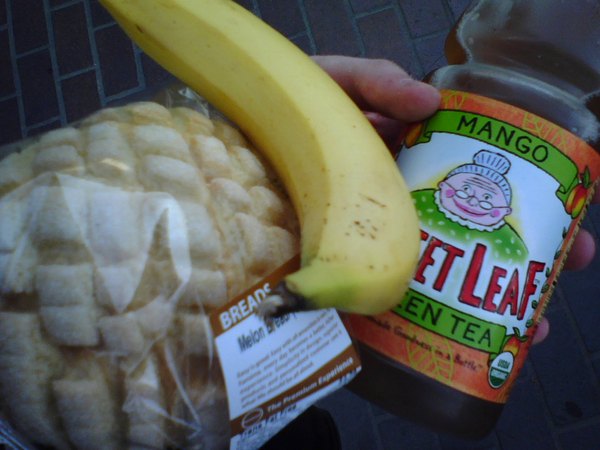 Friday morning's breakfast from Famina conbini
If you're expecting detailed industry panel reports or news recaps, go to one of the big sites/blogs because I'd rather not waste space recanting ubiquitous information that could be used for opinion and reflecting on experiences.
Industry Stuff That Interested Me (and Maybe You As Well) #
– Two different people during FUNimation's panel asked about their contracts with ongoing series in One Piece and Case Closed (Detective Conan). Regarding One Piece, they will have to renegotiate for the 4th and later seasons as well as the other movies (they've only released the 8th one); with Case Closed, the 5th season (released on May 12th) was the last one they had under their current deal. My Bride is a Mermaid (Seto no Hanayome) is on pace for early 2010, February or March.
– Aniplex said during their Q and A that FMA Brotherhood would be 63 episodes, something that was news to me until I did some Internet research and found out that was confirmed at their booth at TAF. Since episode 14 premiered on July 5th in Japan, the finale should air sometime in late May/early June 2010. I haven't been keeping track of how quickly it is covering the manga storyline but the 22nd volume was published in Japan this April so it should at least catch up close to there.
– eigoMANGA is coming out with an 99-cent iPhone app that they hope to show around Comic-Con. It will serve as a reader for installments you could sample and then download through the app. The pricing for those and which series will be on there at the start will be determined later.
– You may have already heard that Nozomi will be releasing Antique Bakery and Junjo Romantica in the US in 2010. I think these are smart pickups since they haven't really gotten into boy's love except for Gravitation and there is an audience they can serve with both titles. Nozomi also has a merchandising agreement with Junjo – I don't know what goods they might bring over but I'm sure some fans might want to buy them.
Speculating About ShoDojo #
Ever since seeing the ad in the AX program guide, I have been wondering about different aspects of FUNimation's in-development community website, Shodojo.com. All you can do right now is sign up for an e-mail update and there is no indication of when it will go live (and after that, when it will shed its beta label). I asked Rojas after Funi's panel about it and he couldn't give me any details but I'm guessing some version will be accessible by fall since I wrote down Adam Sheehan saying "very near future" during his presentation.
The current description on the landing page:
ShoDojo is the place where every part of your lifestyle comes together. A single location to watch free anime, mingle with friends, share all the fruits of your creative energy, and check out what everybody else is making. You know, all the stuff that's so fun about being a fan. We've got what you want – Now show us what you've got.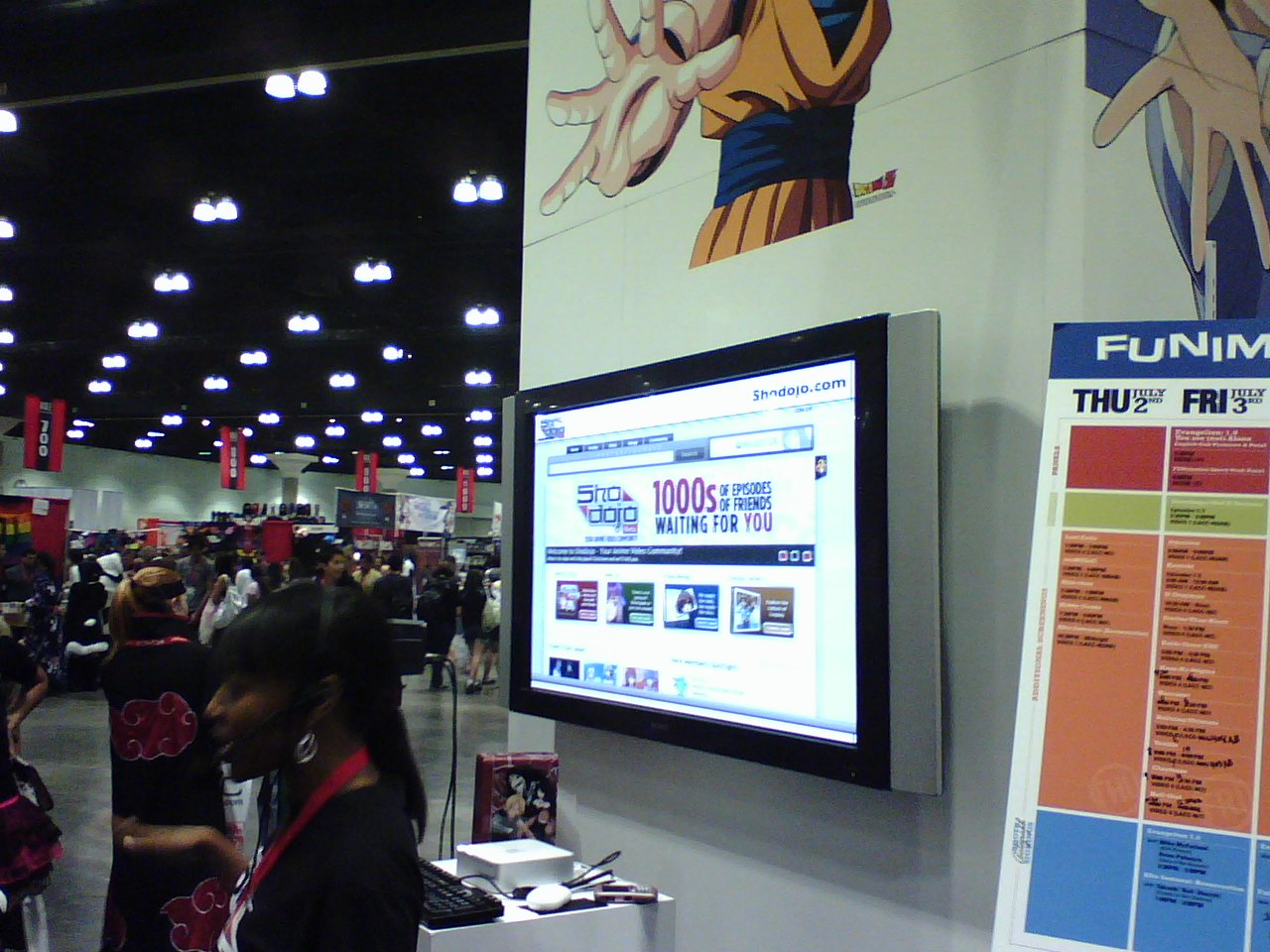 I watched a presentation at their booth on Friday afternoon and saw screenshots of the front page (above) and of the "Create Manga" interface, which I think had a page with panels in the middle with toolbars on the sides. (Will I be able to export or embed my created manga somewhere else or at least print it out?)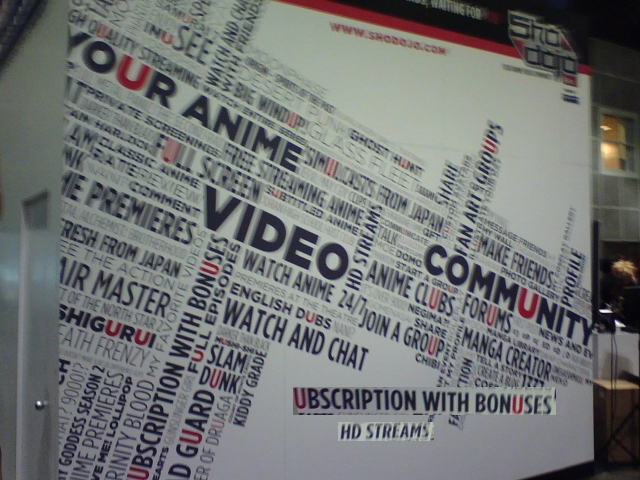 I didn't notice this until I looked through my pictures for this post but among the phrases on FUNimation's Shodojo-themed wall of their booth were "SUBSCRIPTION WITH BONUSES" and "HD STREAMS". Those seem to indicate something similar to Crunchyroll's current setup, where paying Members are able to watch 480p & 720p video of simulcasts and also receive no video advertisments. It's possible that Funimation could restrict select simulcast premieres to only subscribers at first (like CR does).
There's another thing about the site that I'm wondering about. Their slogan for it is "1000s of episodes, 1000s of friends, waiting for you" so video is a clear focus but what about the video portal that they built and have been adding to since last December? Will Shodojo just pull videos from that portal similar to how ANN does from Crunchyroll for their video service? (ANN's service splits videos from FUNimation into four Flash parts with ads served in between so that's why I didn't use that example.) I guess we'll find out later this year and whenever that happens, I'll make a profile and poke around for a week.
The Non-Industry Panels #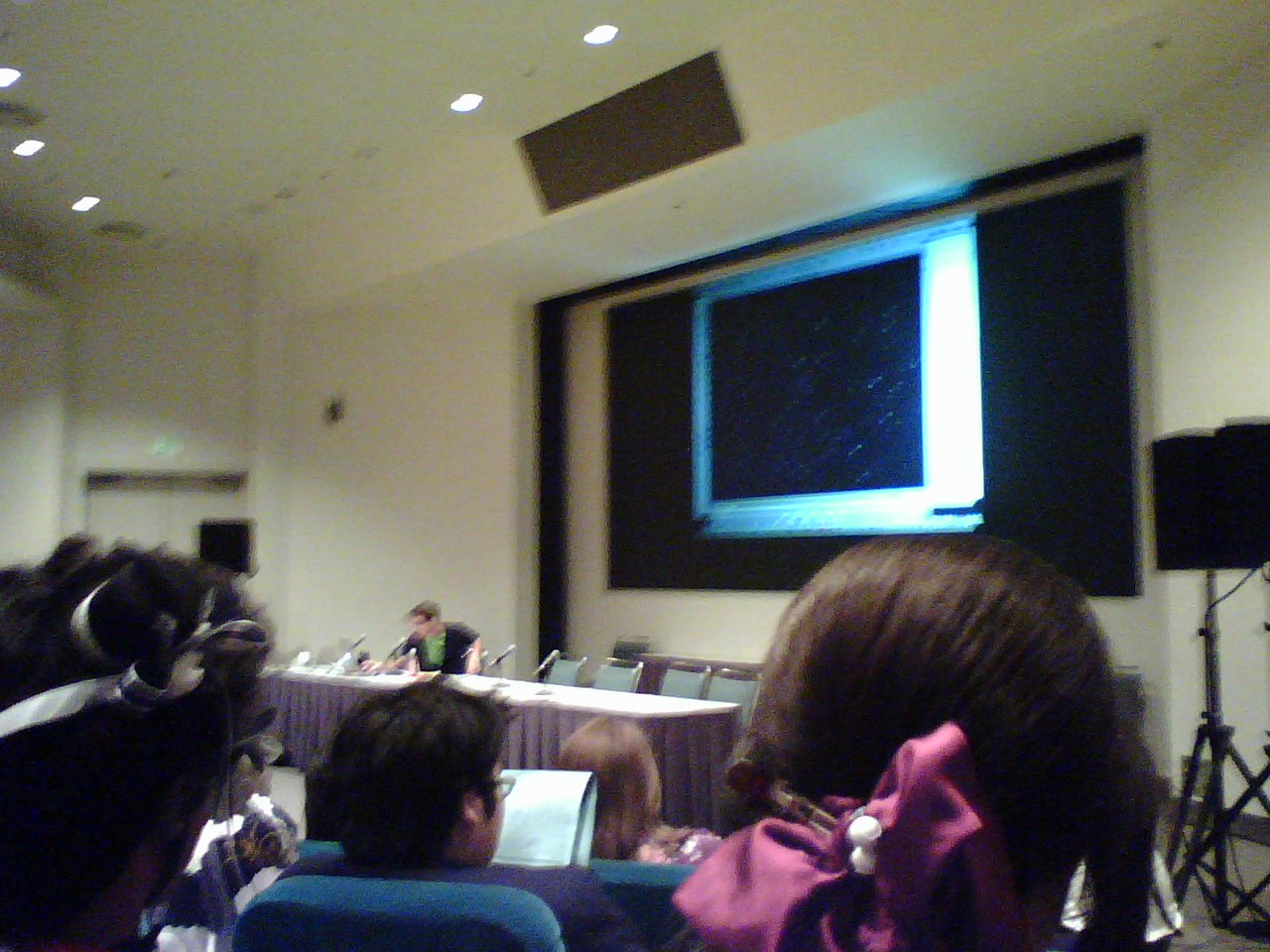 Without The Anime: Openings and Endings (Friday 6pm)
Anime researcher Alex Leavitt talked about openings and endings to a full theatre audience. He started with Astro Boy and showed how animation improved with Yamato and Mazinger Z. He then used Cutie Honey as an example of a franchise's evolution over a few decades. Other focuses included how some songs got popular outside the series like Hare Hare Yukai from Haruhi and some modern credit sequences that don't reuse any animation (Nodame OP, Honey & Clover OP, Eden of the East ED). You can see the entire list of songs he played here.
Indecent Otaku Comedy Hour (Saturday 9am)
It was pretty good but not great. I enjoyed their opening video as well as the Training with Raynako contest where five contestants had to continue doing pushups on rhythm until he/she was the last one and won a figure. The crew had some good momentum at that point, which quickly faded as they received some more figures to give away (donated by AAA Anime) then had some connection problems with Ray in Taipei during his portion of the faux news segment.
Dancing Queen's version of Jay-walking, "Anime Walking", was initially funny but it ran for too long by the time it got to the third and final round as she was telling contestants that they were more incorrect than correct in picking out traps. Some editing would've helped sped that up. The arrival of special guest Johann Krauser II brought back the excitement and the closing act of Makenai playing YUI's "Rolling Star" capped it off nicely.
In between each segment were raffle drawings for figures and though most of the crowd was into it with moans coming near misses, each one slowed the show for me except for when they had rush through the remainder at the end since the whole panel started late due to the long line of people being seated. A major part of my disinterest stemmed from not caring about winning any of the figures – I had gone primarily for the "comedy" part. Overall, I thought it was a better choice than going to "Self-Defense for the Otaku" and I hope they improve on or scrap the weak points for next year.
VOCALOID (Saturday 8pm – came in around 9pm)
Before the Bishojo Games panel, nyoronyolo and I decided to sit in on a panel about VOCALOID videos. I managed to find most of the ones I wrote down except for a Luka one made by Shana that's set in Showa and is about breaking up in the beautiful Japanese autumn.
There was this one made using MikuMiku Dance and based on images of a Bon festival.
A Megurine Luka one by sasakure.UK called "the WANDERlast"
Po pi po, vegetable juice dance song by Miku. English subtitles were added later.
"Yukkuri Shiteitte ne!!" by Piroshiki using Flash and style trees
PV of "Temuterararu Chomuchomepu" made by Miro who took 2600 photos, leaving Shibuya at 6:30 and reaching Tokyo Tower at noon. This was my favorite of all the ones I saw. Here is a YouTube playlist of other collage PVs Miro has made.
Meeting Fellow Internet Writers #
Met a bunch of bloggers/writers throughout the weekend including Randall, IcyStorm, CCY, nyoronyolo, Sabas, Alex Leavitt, 0rion, tekky99, gia and Kuro of Anime Vice, and the "Indecent Otaku" trio of Mike, Benu, and Dancing Queen. I think that's everyone but if I forgot you, give me a holler and I'll add you.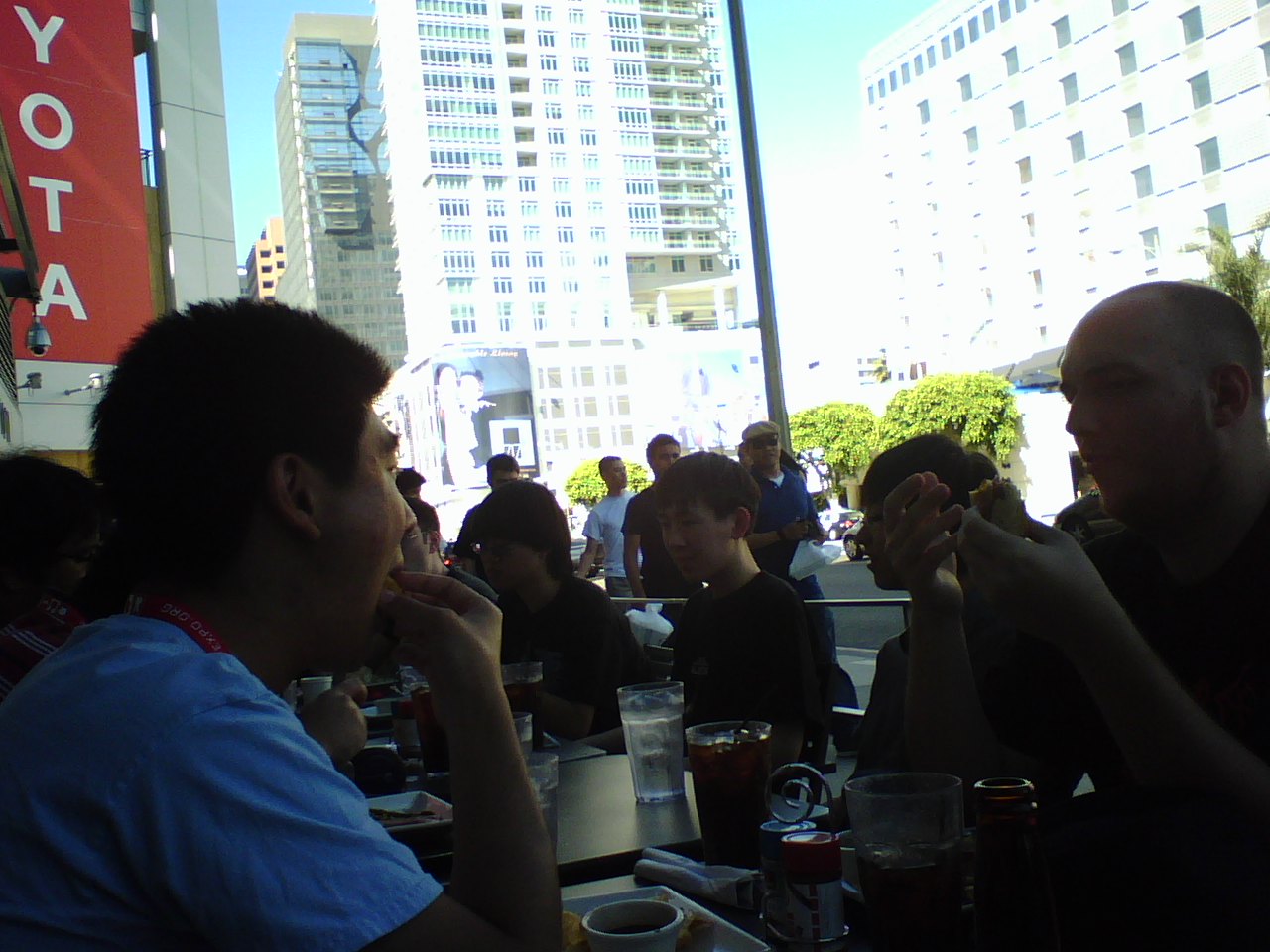 Here's a cellphone shot from the Saturday afternoon meetup at Lawry's Carvery near the LACC. I had a roast beef sandwich on a French baguette with chips and a bottle of Pacifico beer, which collectively sated my appetite.
Playing Some Video Games #
There were some video games playable in the exhibit hall and here are my thoughts about what I played.
After attending Rockin' Android's panel Thursday night, I played GundeadliGne (PC) the next day at their booth. It was fun to play and I noticed it was running at about 60 fps. I didn't get a chance to play Suguri but I'm considering buying the Perfect Edition online for $20.
At the Aksys booth, I played Bit.Trip Core (WiiWare). It was a little hard to get into at first but then I did fine for a little bit until it sped up too fast for me. You hold down the D-pad up, down, left, or right to place in a line in that direction and hit 2 when it crosses the line. There is the same black-and-white mode you enter in Bit.Trip Beat after missing a bunch of dots.
The only thing I was interested in playing at Atlus' booth was the Persona remake for the PSP. I asked a staff how I could bring up a menu outside of battle and he told me it was the triangle button, which I guess I'd forgotten to try. Since it's a remake of the original Shin Megami Tensei Persona game for PSX, the mechanics of every team member performing their moves after the whole team has (like in Etrian Odyssey and many other RPGs) and of ranged attack constraints are still there.
While waiting for the noon Crunchyroll booth toss on Saturday, I quickly played three holes of Pangya: Fantasy Golf (PSP) at TOMY's booth and also got a squishy golf ball. It felt easier to perform the triple-click swing using the PSP's buttons than on the PC with a mouse or keyboard and I liked the ability to fast-forward through a shot after the ball is struck by either you or an opponent. I've been thinking on and off about getting a PSP and these two games (Pangya and Persona) are pushing me a little closer toward it.
The only thing NIS America had playable was Holy Invasion of Privacy, Badman! (PSP) on the side of their booth. I picked it up for a few minutes, trying to figure out how to play it and change stuff. (There were no instructions close by.) I went through one level and then left for someplace else. I guess it's a tower-defense type of game where you're a villain putting monsters and traps in the way of a knight who's trying to get to you. It didn't particularly grab me but those who like that type of game might enjoy it.
In the arcade room, I played BlazBlue twice and lost badly both times, played a Guilty Gear XX match in between BlazBlue attempts, had a go at Strikers 1943 co-op with Sabas, and went a fair distance in Metal Slug 6 co-op with a stranger before I left for a panel.
The Icing on the Cake #
After a long weekend of attending events and meeting people, my last big thing to go to was the Open Autograph Session on Sunday afternoon, my chance to get some signatures from Guests of Honor. I didn't mind missing "The Problem with Otaku" (sorry, Alex!) and the first half of Production I.G.'s panel – though I did manage to get done in time to hear the Film Roman announce the Dante's Inferno animation project. I got Yosuke Kuroda to sign a booklet from Madlax DVD vol. 1, Seiji Mizushima to sign Shaman King DVD vol. 1 & FMA Conqueror of Shambala, and Yasuhiro Nightow and Satoshi Nishimura to both sign vol. 1 of the Trigun manga.
I'll post pictures of those in a separate post along with purchases from BookOff and other items I picked up once I get my hands on a camera that takes good pictures. I lost my Casio EXILIM on Friday afternoon as I was leaving the Aniplex panel and hadn't heard anything about it after reporting it lost to Convention Operations. I had thought about asking for a picture with Kuroda & Mizushima (and his sweet "EXPRESS MAIL" hat!) as I was getting their autographs but decided against it since it would have been taken with my not-so-great cameraphone.
The convention for me was better this year than in 2008 mainly because I had some internet access in the room I was staying in and I hung out with people I knew. The drive down was a little less tiresome but still tedious. I might return in 2010 depending on what I'm doing a year from now and whichever guests they manage to get.