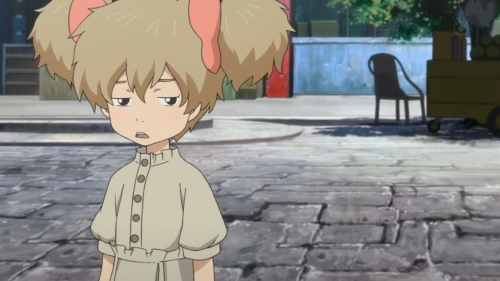 When I heard on Monday that Wednesday's Anime Almanac post would involve what Scott thought about Crunchyroll, I began thinking about writing a post that both responded to his essay and the two-part interview ICv2 posted with Crunchyroll Ken Gao. But then I got distracted and didn't read either until Thursday, which happened to be when the post-publication feedback focused on credit and a rehashed discussion of the usefulness/lack thereof of comments.

First: Scott claiming, albeit somewhat jokingly, to have prompted Crunchyroll's decision to 'go legit'. When attending the Kadokawa panel at Anime Expo, I do not remember Chiako (nor co-presenter Yuko or the panelists) being as surprised and unaware as Scott described. Essentially the same presentation was given throughout the summer convention season, save for the Tokikake theatre updates, so perhaps she began to become more and more curious about crowds' awareness of Wagaya no Oinarisama and the rest with each successive panel she chaired. He may have brought to her attention a 'conservative estimate' of illegal downloading within the North American fan community but providing such assistance shouldn't lead to self-conceit.
(I find it a little ironic that Scott disowned Digg the day before he repeatedly promoted his essay that was posted by someone else onto the social news website. I did not digg it myself because I didn't find it that interesting, though still pretty good.)
Though the ICv2 interview I linked above was not eye-opening, it provided some insights into how Crunchyroll views itself. Gao admits the site will have fewer (not 'less') videos at the start of their new policy and that it's a shame that the committees for some of their "long tail content" (read: user-submitted fansubs) no longer exist, making them unable to form licensing agreements, but he hopes the replacement of that lost content with higher-quality fare will attract a larger audience to their site.
Regarding the effects of increased digital distribution on DVD and TV, he "firmly believe[s] that will converge into more people who want to buy the physical merchandise, buy the DVDs, and so forth." He says CR sees themselves as attracting "a little bit of a different audience" compared to Hulu and Joost, namely "the core anime fans in the U.S. and the rest of the world" that prefers to watch subtitled rather than dubbed anime. Hulu instead "target[s] a little bit more of a mainstream audience who might not be the anime fan but may like a certain show or a certain genre". Well, duh. The impetus of Hulu's launch was to provide a single ad-supported site for people to legally catch up on their favorite television shows instead of needing to visit each network's site. (CBS and ABC have not jumped onto Hulu and still use their own sites to stream past episodes.)
Finally, some short remarks on comments. I have long abandoned the expectation that people will regularly comment on my posts and thus rarely append a "what do you think?" prompt for discussion at the end of them. I find them to be useful for alerting me of small mistakes and clarifications. I find myself considering writing a response post if a comment in progress surpasses two paragraphs but that only happens when I want to expound on a subject. I don't want to conduct deep introspection as to why I have comments on the blog 'cause I do not read into nor care that deeply about the issue. Disabling comments on specific posts because too many people are being jerks makes more sense to me than basing an all-or-nothing decision on sociological frameworks. By the way, I have enabled threaded comments since upgrading to WP 2.7 on Dec. 10th and they seem to have worked fine so far.